Game of Thrones: The Board Game's digital edition gets a PC release date and gameplay trailer
The Red Webding.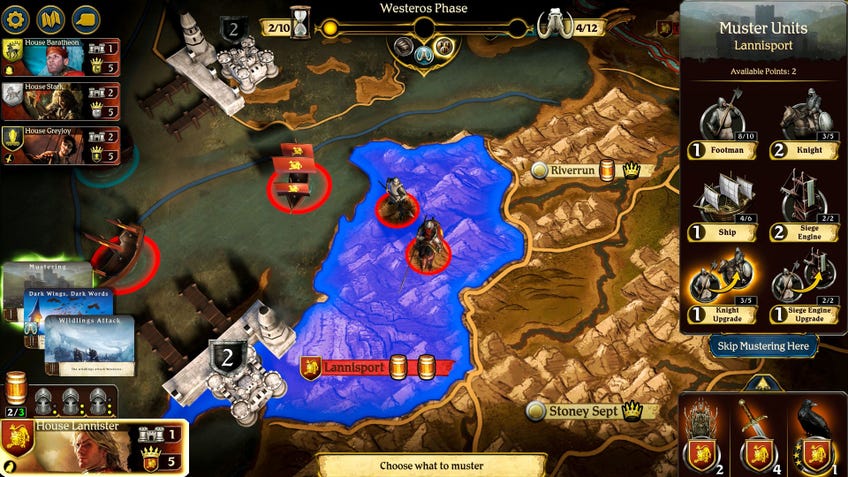 A Game of Thrones: The Board Game has been given a release date on PC, along with a new trailer showing off the digital adaptation's gameplay.
Teased last year before being confirmed for release over the summer, A Game of Thrones: The Board Game - Digital Edition sticks close to the political intrigue, sweeping strategy and brutal backstabbing of George R.R. Martin's A Song of Ice and Fire books, the TV show they inspired and Fantasy Flight's tabletop board game, which similarly follows the houses of Westeros as they scramble for the Iron Throne in the wake of King Robert Baratheon's death.
Taking command of House Lannister, Stark, Greyjoy, Martell, Tyrell or Baratheon, players form fragile alliances as they secretly plot their moves, before simultaneously revealing and resolving actions and battles. Combat is resolved using cards, with players needing to work together to defend against Wildling attacks from the north in-between their own clashes. The digital edition's new gameplay trailer shows off the app's 3D visuals and animations, which stick relatively closely to the physical board and pieces in the board game.
The PC port is based on A Game of Thrones: TBG's second edition, released in 2011 as an improved version of the 2003 board game. The second edition includes various rules from first-edition expansions A Clash of Kings and A Storm of Swords expansions, while the digital edition also adds in elements from second-edition expansion Mother of Dragons, including a neutral house for matches with fewer players.
New to the digital edition is a story campaign with exclusive scenarios, which can be tackled in single-player. Local and online ranked multiplayer support up to six players - including both humans and AI. There's also a tutorial to get first-timers familiar with the rules.
The PC version has been developed by Dire Wolf Digital, which released its impressive digital adaptation of strategy game Root last month. The studio has brought various other board games to the digital space, including Norse worker-placement hit Raiders of the North Sea.
A Game of Thrones: The Board Game's digital edition will be released on October 6th, costing £15.99/$19.99. You can currently grab it for 20% off on Steam ahead of launch.