Sew a map to a distant friend in keepsake storytelling game A Mending
Narrative thread.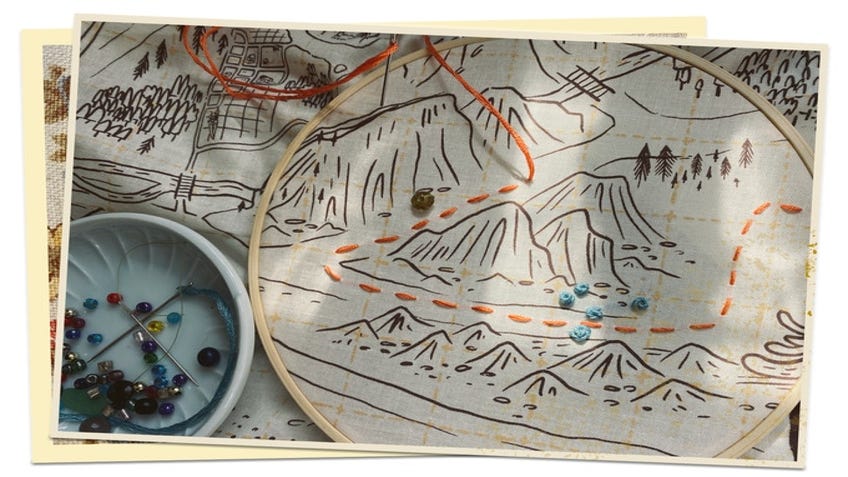 Reunite with a long-separated friend by following a map sewn by your own hand in A Mending, a solo keepsake story game from artist and designer Shing Yin Khor that's now on Kickstarter.
Players have received a call from an old friend they haven't seen in quite some time and must follow the long and complex path to their house. To aid in that journey, they will first create a map to guide their way using needle and thread - or pen and paper. The act of creating the map provides space for considering the shared friendship and what events or emotions caused the two to part for so long.
Khor is one of two designers - along with Jeeyon Shim of The Last Will and Testament of Gideon Blythe - who have recently begun designing 'keepsake' games, which are meant to create something permanent at the end of play that can be displayed or used beyond the tabletop. Most follow a solo RPG format that fit into smaller time slots or quiet moments at home.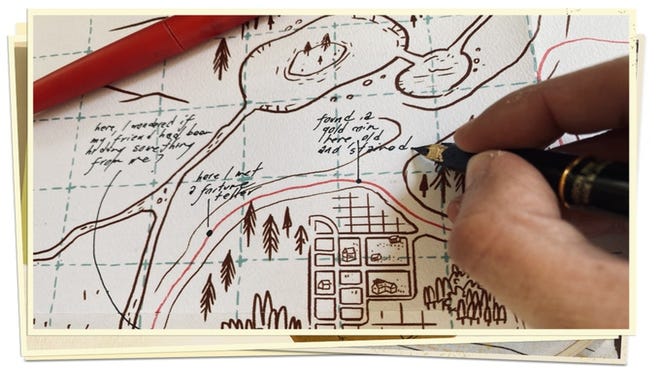 "This game is a reflection of my desire to make games that create physical gameplay artifacts and beautiful keepsakes, my love of maps, a deep respect of handiwork often categorised as 'women's work,' and many years of missing dear - and distant - friends."
Using the provided map and deck of prompt cards, players stitch their way through the natural landscapes and towns between their home and that of an old friend. Cards will introduce events that might see them run into other travellers - a very good dog was mentioned in the description - alter their path forward or perhaps provide a quiet moment of introspection to consider your thoughts and emotions. All of these are marked on the map with a bead, button, note or some other small memento.
At the end, the map should convey the breadth of a player's exploration and be filled with tiny decorative memories along the way.
Those who don't know how to sew can play A Mending using pen and paper without missing any of the intended mechanics, but Khor has included instructions for basic stitching, which they claim is all that's needed to enjoy the journey.
"My own approach towards embroidery and sewing is haphazard, but I appreciate its versatility and style," Khor said. "If you are an experienced sewist or embroiderer, you can feel free to embellish the game to your heart's content!"
A Mending is designed for solo play but can be augmented slightly to allow collaborative storytelling or sharing of labour. The game will also include physical paper maps for those players who would prefer to plan their routes before putting needle to thread. The cloth map, screenprinted with Khor's art and gridded squares, leaves plenty of room on the edges for framing.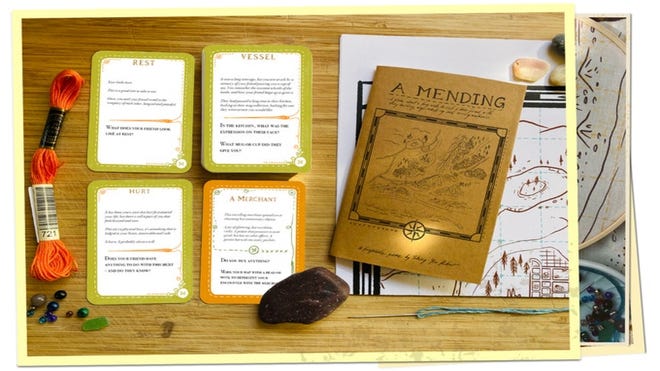 Khor previously collaborated with Shim on Field Guide to Memory, a keepsake game chronicling the research notes and sketches of a naturalist studying the nearby cryptids. Their art installations, which often explore storytelling and game elements - have been featured in galleries, outdoor spaces and travelling shows across the United States.
The Kickstarter campaign for A Mending runs through March 25th. Physical copies, which include a fabric carrying case for all the bits and bobs, costs $50 (£36), while no-sewing and digital versions of the rules go for $25 (£18) and $15 (£11), respectively. Shipping for all versions is expected to begin in July of this year.