Aqua is a deeply satisfying board game about supporting sealife, developed by Heat: Pedal to the Metal creators and co-designed by a seven-year-old
Place colourful tiles to brings animals to your reef.
The 'biggest' release yet from the designers of Heat: Pedal to the Metal is Aqua, a gorgeous game about arranging tiles to create suitable habitats for sealife.
Aqua was designed by Dan Halstad, one third of indie studio Sidekick Games alongside Heat creators Asger Harding Granerud and Daniel Skjold Pedersen, and his son Tristan, who was seven years old when the upcoming board game started life inspired by his aspiration to be a marine biologist. Granerud and Pedersen then helped to develop the game's rules.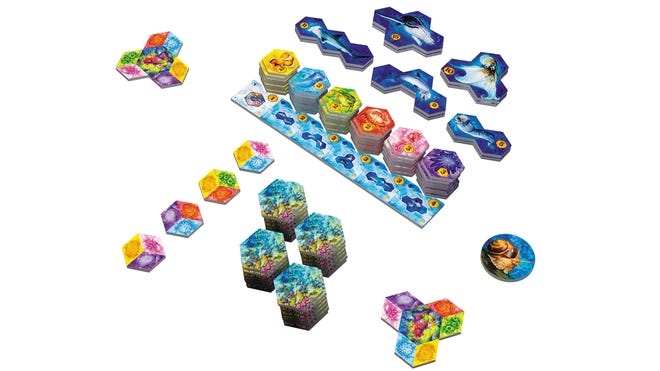 As played by Dicebreaker at this year's Essen Spiel board game convention, Aqua is a rules-light game that sees players taking it in turns to pick hexagonal tiles from a central row (equal to the number of players plus one), before connecting them to at least one matching section of their current tile group. Players can also choose to claim a sea snail token to choose to instead go last in the current round, before going first in the next round.
Each tile is split into three colours, which represents different habitat types for sealife. When a complete hexagon of one colour is formed, it becomes a habitat, allowing the player to claim the respective animal from a line of tiles and place it over the formed hexagon. Animals include turtles, clownfish, crabs and more.
As well as forming hexagons to claim animals, habitat types can be formed into chains of four or more matching sections called reefs, which double the value of any adjacent animals. Tile sections under animals no longer count towards reefs.
When multiple animals are placed next to each other in specific patterns, the player can then claim a large animal - including sharks, moray eels, rays and whales - and place it over the smaller animals. Both the large animals and smaller animals continue to score.
Additional universal scoring bonuses, known in-game as ecosystems, provide extra points for various objectives linked to each animal type, with six of a possible 24 different objectives used each game.
Illustrated by prolific board game artist Vincent Dutrait, Aqua looks absolutely gorgeous, with different animals on each side of the double-sided tokens - serving only the purpose of allowing you to choose which you prefer visually - and brightly coloured habitat tiles.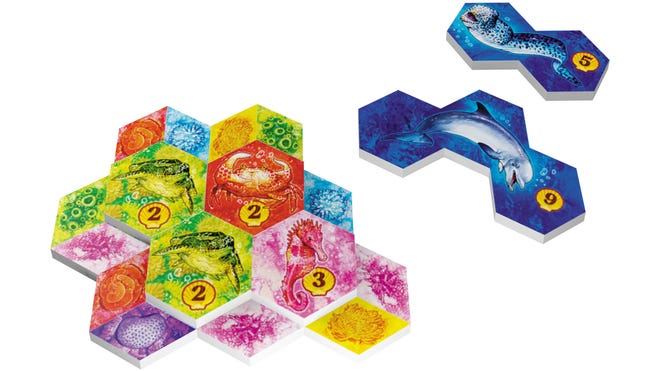 The game can be played with up to four people in around half an hour to 45 minutes, with a solo mode providing the chance to take on 50 challenge scenarios. The highest-scoring rank in the rulebook include a sweet nod to Tristan Halstad, who coined the catchphrase of "satisfying" when matching multiple sides of a tile at once. Having played a full round of the game's prototype with Granerud and Dan Halstad at Essen Spiel, satisfying is definitely on the money when it comes to Aqua's gameplay experience.
In keeping with its theme of fostering biodiversity in the ocean and supporting animals, the game will be produced from FSC paper materials, with no plastic inside the box thanks to paper wraps.
Aqua will be released by The Op in Q1 2024, priced at €35. The title is the first in what Sidekick has dubbed its Generational Games series, with plans to release a new entry each year through 2026.