Ashes: Rise of the Phoenixborn is being reborn as a subscription-based game
Launching with 1.5 Upgrade Kit and new Jericho deck.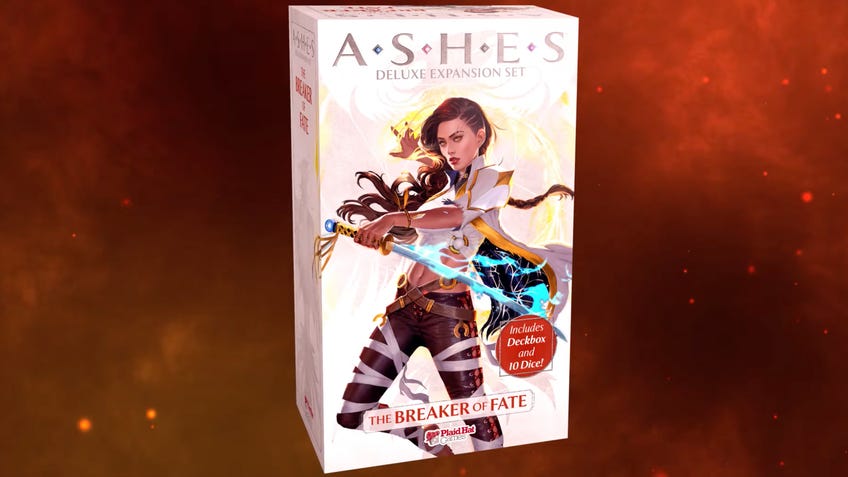 Expandable card game Ashes: Rise of the Phoenixborn is returning with a new edition built on a subscription model.
Originally released by Dead of Winter and Stuffed Fables studio Plaid Hat in 2015, Ashes is a competitive card-and-dice game, where players battle using a unique set of cards in their character's deck, along with a pool of custom dice used as resources.
Designed by Dead of Winter co-creator Isaac Vega, Ashes was an expandable card game, following the release of its core set with a number of expansions and decks featuring set card lists (compared to the randomised contents of collectible card game booster packs).
Despite critical acclaim, Ashes came to an end in spring 2019 with the release of its final expansion pack and an announcement by Plaid Hat that it considered the game "complete".
Plaid Hat regained its independence as a studio earlier this year, breaking away from tabletop behemoth Asmodee, under which it had operated for five years. At the time, the publisher announced a second edition of 2009 card game Summoner Wars, with founder Colby Dauch telling Dicebreaker: "If [the Summoner Wars relaunch is] successful, I'll have my eye on making more Ashes content."
Now, Plaid Hat has confirmed that Ashes: Rise of the Phoenixborn will be returning as Ashes Reborn, a "1.5" edition of the card game driven by a new subscription model.
"Ashes has fans that are just rabid for it, but it runs into smallest viable audience issues," Dauch told Dicebreaker earlier this year. "I have some ideas about how to solve some of those issues so that we can continue to reach a passionate, but not necessarily large, player base and I've got ideas about how to grow and support the player base for these kinds of games."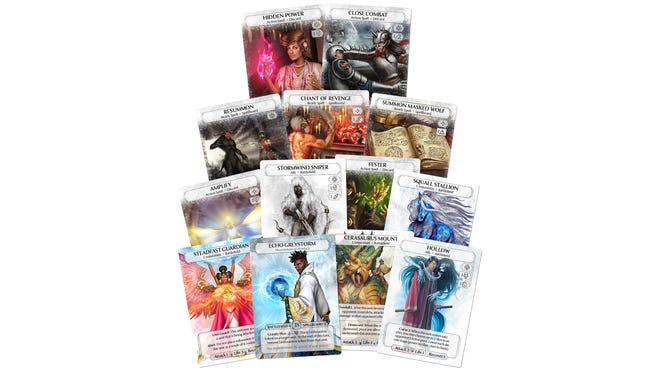 Ashes Reborn will be available as a subscription via Plaid Hat's partnership with Team Covenant, a tabletop retailer that specialises in subscription offerings for games with regular releases such as Arkham Horror: The Card Game, the Pokemon TCG and the Lord of the Rings living card game.
The subscription will cost $29.95 per new release, amounting to two new expansion decks released for Ashes Reborn every three months. Subscription availability has so far only been confirmed for the US and Canada.
Expansions available through the subscription will eventually be made available for general purchase, Plaid Hat said, with the exclusivity period for subscribers yet to be determined. In the US, the expansions will be exclusive to the publisher's online store, with international availability in retailers.
The first release for Ashes Reborn will be a 1.5 Upgrade Kit that includes an updated version of the game's rulebook along with over 350 cards from all 23 boxes in the game's first run. The revised cards feature improvements to wording and balancing, which will carry across to any re-releases of the original core set and expansions. The 1.5 Upgrade Kit will feature enough copies of each card to include the maximum number of any card in line with the game's deck construction rules. It will also include the components required to convert an existing Ashes collection to the new game.
The Upgrade Kit will be followed by a brand new expansion deck featuring returning phoenixborn character Jericho. The set gives Jericho the ability to use time magic, represented by new time dice and brand new cards. As part of introducing the new Jericho deck, the character's original deck The Path of Assassins will be retired from the game, alongside phoenixborn released as promos. Plaid Hat said the promotional characters will receive complete decks in Ashes Reborn, and Jericho's retirement would be "the only time we will retire an entire Ashes deck".
Ashes Reborn will launch once the game's subscription reaches 1,000 subscribers, Plaid Hat announced, saying the model will determine "if demand is sufficient to bring back Ashes". After the 1.5 Upgrade Kit and Jericho deluxe expansion deck, two additional Ashes Reborn decks will launch every three months.