Study ancient spell books in Atheneum: Mystic Library, the next board game from the creators of Obscurio
Dewey Deci-spell System.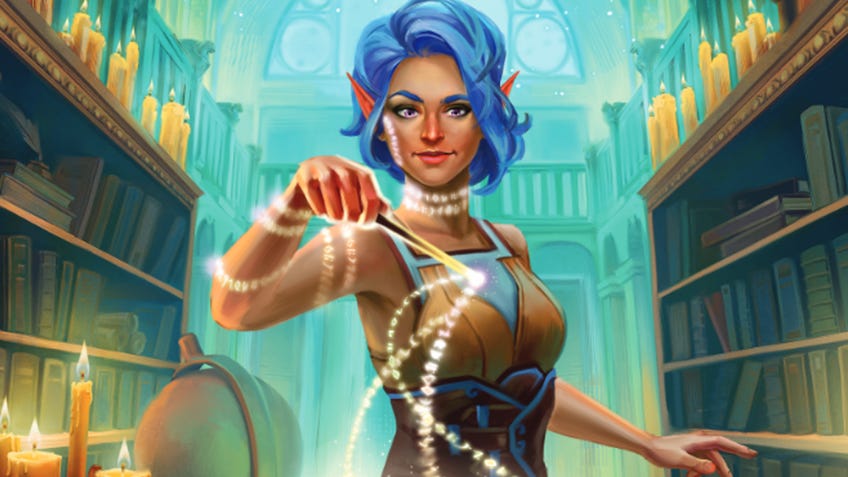 The magic exams are tomorrow so it's time to cram in Atheneum: Mystic Library, the next family board game from the team behind Obscurio.
In Atheneum, two to five players find themselves in a school for magic where the exams are taking place the next day. Heading to the library, players must balance proper study with good organisational skills, as the school security guard has requested that they return the books they use to their original places before the library closes up for the night.
In order to score points during the game, players must place their magic books back into the correct configurations, being mindful of where each book is placed in relation to another. Once the game is complete and the library closes, players then score points for how many shelving compartments they've successfully filled - including how many of those books match with their character's favourite subject - alongside how many decorative candles they've managed to place across those shelves.
Each action a player takes enables the players next to them to perform an additional action, with the player who successfully organises the most beautiful shelf of magic books claiming victory.
Atheneum: Mystic Library is designed by the L'Atelier group of board game designers, who previously created titles such as party board game Obscurio - the spiritual successor to Mysterium in which players have to interpret images in order to escape an evil sorcerer - and deduction co-op board game One Key.
Renegade Game Studios, the publisher of Atheneum, is responsible for releasing titles such as two-player board game Fox in the Forest, beginner board game Bargain Quest - which is getting an upcoming board game expansion in the form of Sunk Costs - and sci-fi horror board game Terror Below.
Atheneum is the second recent announcement from Renegade with more than a whiff of Harry Potter about it, following the reveal of Kids on Brooms, a fantasy RPG which casts players as witches and wizards attending a Hogwarts-like magical school.
Atheneum: Mystic Library is set to be released sometime in September 2020 at a retail price of $45 (£36). The upcoming board game will also be available to pick up at this year's Gen Con - which is scheduled to take place from July 30th until August 2nd, should the event remain uncancelled in the wake of the coronavirus pandemic.