The Tea Dragon Society reunites for Autumn Harvest, the next board game based on the graphic novel series
Steeped in scales.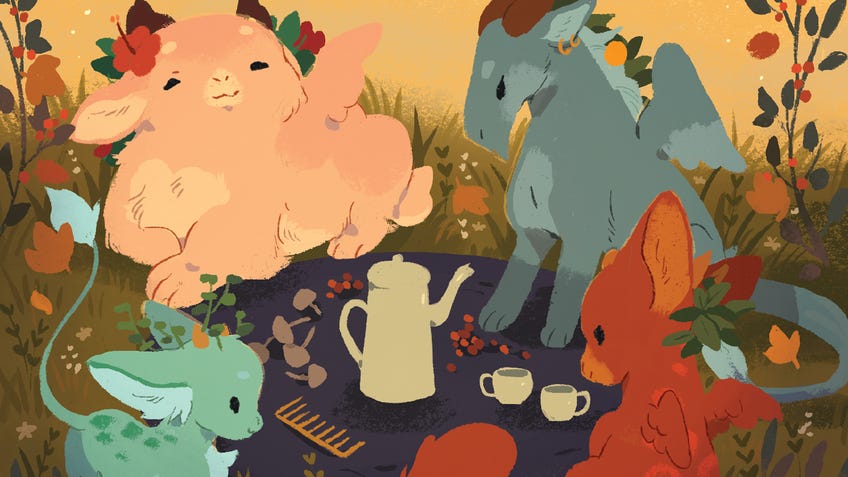 Build lasting bonds with whimsical winged lizards in Autumn Harvest: A Tea Dragon Society Card Game, the next tabletop release based on the series of graphic novels by Katie O'Neill.
The Tea Dragon Society graphic novel follows the story of a blacksmith apprentice called Greta, who finds herself falling into the world of tea dragons and discovering new friends amongst the adorable creatures. The Eisner Award-winning story - the highest commendation that a comic or graphic novel can achieve - eventually received a companion graphic novel called The Tea Dragon Festival two years later.
In 2018, The Tea Dragon Society Card Game was released by publishers Renegade Game Studios - the company behind The Fox in the Forest and tabletop RPG Kids on Bikes - and Oni Games. The beautifully-illustrated game saw players gradually forming a friendship with their tea dragon by playing cards and creating memories.
Autumn Harvest: A Tea Dragon Society Card Game follows a similar premise, with players looking to build a strong bond with their own dragon - one that will last throughout the seasons. The upcoming card game features artwork from O'Neill, and has players drawing and playing cards in order to deepen their friendship with their tea dragon.
In addition, players will have the opportunity to strengthen their deck by acquiring new cards, which can lead them to gain more beneficial effects and eventually nab more points.
Whilst Autumn Harvest is a standalone title, it can be combined with The Tea Dragon Society Card Game to provide a mix-and-match selection of cards from both games and support up to five players, instead of the usual limit of four.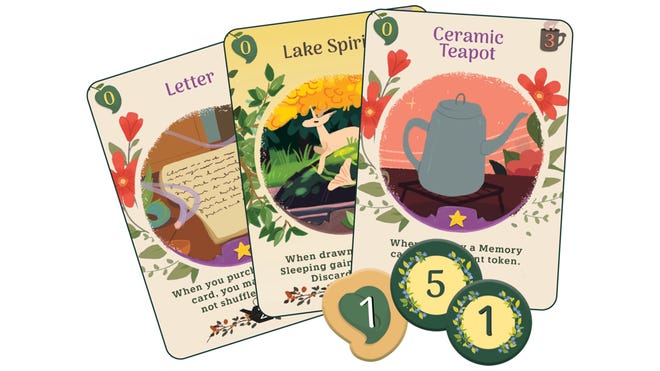 The design team for The Tea Dragon Society Card Game - made up of Steve Ellis and Tyler Tinsley - have returned to create Autumn Harvest. The pair have also collaborated on Gudetama: The Tricky Egg Card Game, based on the beloved Japanese mascot, due out next month.
Autumn Harvest: A Tea Dragon Society Game is set to be released in Q4 2020 at a retail price of $25 (£19).