Gudetama card game, based on the lethargic Japanese cartoon, invites you to be as lazy as you like
When frying is just too hard.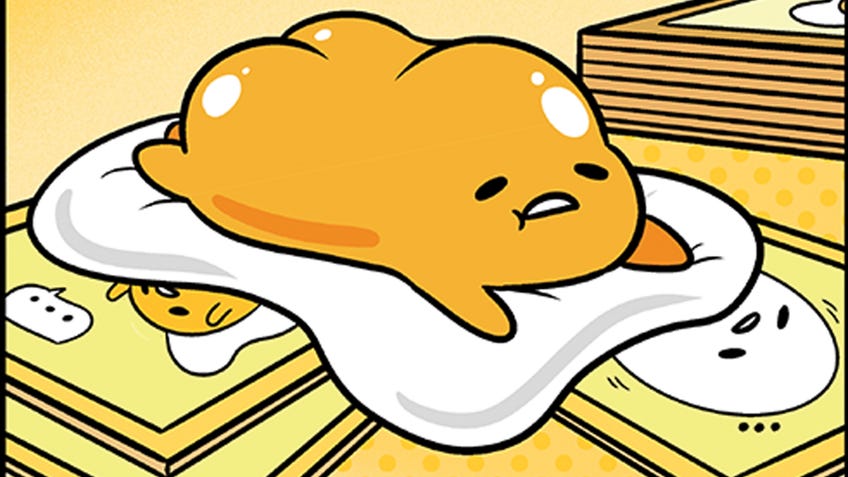 Indulge in the slovenly side of tabletop gaming and take it easy with Gudetama: The Tricky Egg Card Game, an upcoming board game based on the Japanese cartoon character.
Gudetama is a rather languid egg yolk who was created for Sanrio, the Japanese company behind Hello Kitty - the adorable cat character who's gained a iconic status around the world since her creation in 1974. Depicted in a variety of supine states, Gudetama can be found on various pieces of merchandise and has gained an international cult following.
Gudetama: The Tricky Egg Card Game is a quick board game for two to seven players in which everyone attempts to collect the least amount of points possible. Like the somnambulic yolk itself, players are encouraged to avoid winning points, particularly during the very last hand of each round.
Rounds in Gudetama consist of seven tricks - when players lay down cards in a particular suit before revealing them, with the highest-numbered card taking the hand - which are played out using illustrative cards featuring the lazy yolk. Whoever wins the final trick of the round scores points equal to the card they won the trick with.
For example, if a player wins the seventh trick with a number 8 card, then they add eight to their point total. Whichever player has the lowest number of points by the end of the final round is named the winner.
Gudetama: The Tricky Egg Card Game was designed by Steve Ellis - the co-creator of train board game Trains: Rising Sun and party board game Dia de los Muertos - and Tyler Tinsley. Ellis and Tinsley have previously worked together on titles such as beginner board game The Tea Dragon Society Card Game and press-your-luck dice game Dicey Goblins.
The publisher responsible for releasing Gudetama is Renegade Game Studios, the company behind titles including two-player board game The Fox in the Forest, legacy board game Clank! Legacy: Acquisitions Incorporated and the recently-announced beginner board game Atheneum: Mystic Library.
Renegade Game Studios recently announced that it would be hosting an online board game convention from June 5th to June 7th called Renegade Con Virtual. The online convention will feature demos of its upcoming board games - such as The Search for Planet X and Succulent - on Tabletopia and panels featuring designers including North Sea and West Kingdom creator Shem Phillips.
Gudetama: The Tricky Egg Card Game is set to be released sometime in August at a retail price of $15/£12.