Bardsung has a 50+ hour campaign, massive demon miniature and $99 price tag
Will they sing of your glory or your corpse?
Steamforged Games, the publisher behind Dark Souls: The Board Game, Epic Encounters and Godtear, has revealed more details about its upcoming dungeon-crawling board game, Bardsung, including the contents of the box, Kickstarter-exclusive hero Gladestrider and a launch trailer.
Drawing on the premise of bards singing the immortal tales of your exploits, Bardsung puts you in the capable shoes of a dungeoneering adventurer in search of fame and fortune. As is so often the case, the only assurance is dangerous foes in the vein of orcs, demons and other nasties of the deep.
A Kickstarter campaign for Bardsung is scheduled to go live at 5pm GMT on November 10th, offering at least one detailed tier for potential backers. The core 'Hero' pledge will run $99 (£75) and include a full copy of the game, along with any stretch goals the campaign manages to hit. The full copy includes 66 detailed miniatures that represent your heroes, the dungeon denizens, five different boss monsters and a fearsome six-inch-tall demon meant to cap off campaigns that Steamforged claims can run 50 hours and beyond.
Players build dungeons procedurally as they explore, lending the game a replayability - 'roguelike', according to the publisher - and an element of surprise even if you intimately know the separate physical pieces. Steamforged's creative director Mat Hart previously told Dicebreaker the team wants players to feel like their decisions alter the game in ways both big and small.
"We've looked to combine a full-strength RPG system with the visual appeal and ease of use of a board game, offering players a huge amount of agency and choice not just over in-game actions, but also over developing their character's abilities and attributes," said Hart.
Tackle the challenges on your own or grab up to four other friends to join in the delving and treasure hunting. If you choose to embark on a longer campaign, Bardsung advertises narrative control via choices along branching paths. Those choices will affect the ultimate outcome but also take shape in the individual dungeons' layout and the treasure and threats therein.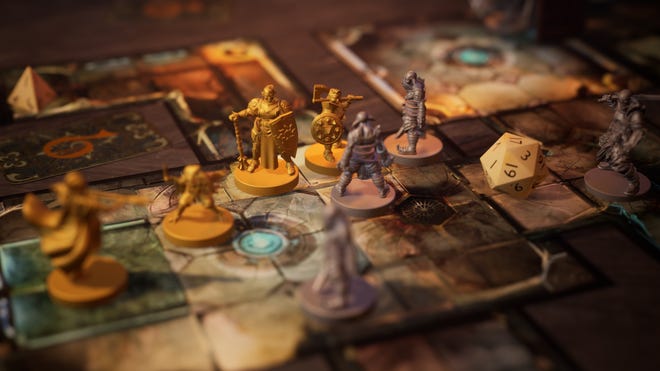 Steamforged Games has a history of adapting existing game properties, such as Horizon Zero Dawn, Dark Souls and Resident Evil, to the tabletop, but Bardsung is a completely new fantasy setting that stands apart from any of its former creations. The development team announced earlier this month that several celebrated writers in the tabletop space would be designing adventures for Bardsung. Video game writer Rhianna Pratchett, Games Workshop's Ian Livingstone and Sara Thompson, author of the Dungeons & Dragons 5E rules for a combat wheelchair, will all contribute adventures for Bardsung's branching web of possibilities.
Bardsung's Kickstarter campaign begins at 5pm GMT on November 10th - you can check out the launch trailer below in the meantime.