BlazBlue Exceed brings the anime video game fighter to the tabletop
16 characters join card game's roster of fighters.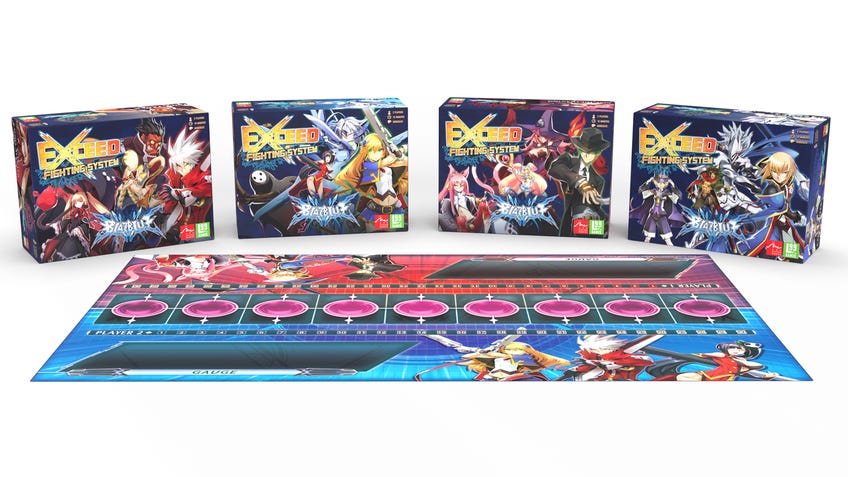 The next season of fighting card game Exceed will include characters from video game battler BlazBlue.
BlazBlue Exceed is the fifth season of the card game, following editions of the game based on iconic arcade brawler Street Fighter and platforming video game Shovel Knight, as well as publisher Level 99 Games' own tabletop franchises Red Horizon and Seventh Cross.
BlazBlue is an anime-styled 2D fighter developed by Japanese studio Arc System Works. The series debuted in 2008, and sees two players facing each other one-on-one in a battle to whittle their opponent down to zero health with attacks and combos. The latest release in the franchise was 2018's BlazBlue: Cross Tag Battle, itself a crossover with other Arc System Works games.
Exceed draws from classic fighting video games, with two players selecting a character - each with their own unique deck of attacks, special moves and supers - and doing battle. The characters can move back and forth on the central board, which mimics a 2D plane, and build up their gauge to unleash more powerful abilities.
BlazBlue Exceed will feature 16 characters from BlazBlue. As with previous Exceed releases, the characters will be compatible with the rest of the roster, allowing any two characters to face each other.
Four separate boxes will each include four characters from BlazBlue. The Hazama box will also include Nine The Phantom, Kokonoe and Platinum the Trinity. The Noel box packs in Noel Vermillion, ?-13, Litchi Faye-Ling and Arakune. Jin Kisaragi is joined by Bang Shishigami, Hakumen and Carl Clover in the Jin box. Completing the roster is the Ragna box, with Ragna the Bloodedge, Rachel Alucard, Iron Tager and Taokaka. Each of the standalone boxes can be played by itself, including the central board, rules and all other components.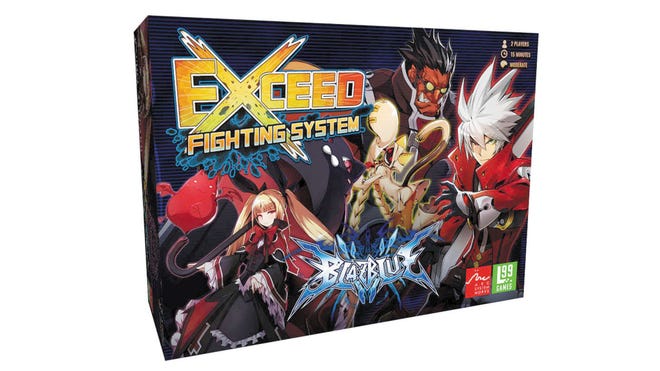 The individual boxes will cost $35, with a bundle including all four boxes and a playmat also available for $130, along with a deluxe version for $250. The deluxe edition includes acrylic standees for the fighters available as a pre-order bonus from Level 99's online store.
BlazBlue Exceed will release on December 8th.
Level 99 recently announced a fourth edition of its other major fighting video game-inspired card game, BattleCON, for release this August. While the two games share some DNA due to the involvement of designer Brad D. Talton, Exceed's gameplay centres around drawing cards from a deck while BattleCON sees players using a limited hand of cards to gain the advantage.