Catan: Logic Puzzle game will test your brains instead of your friendships
Wheat and wits.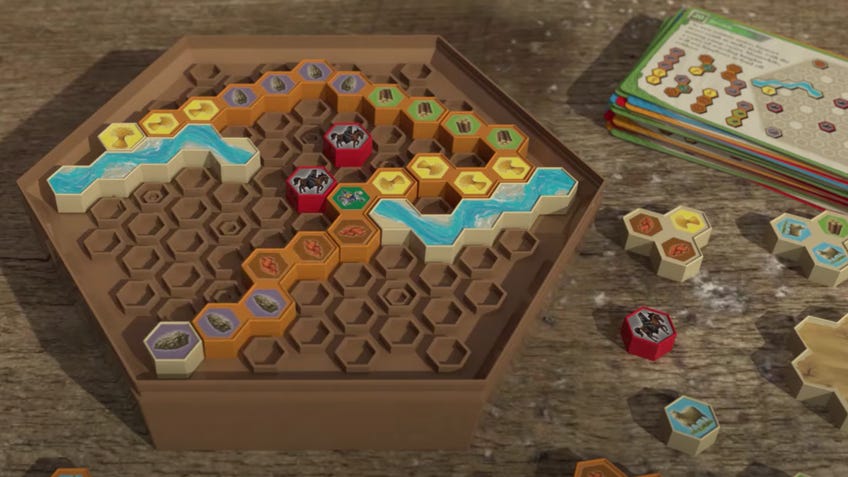 Rack your brains to connect the settlements and cities of the island in Catan: Logik Rätsel, the next entry in the classic family board game series.
Called Catan: Logic Puzzle when translated into English, the upcoming game sees players attempting to craft the best possible network of settlements, cities, wood stores and more key locations on their island. A solo board game, Catan: Logic Puzzle does not include many of the usual elements the series is known for - such as trading or resource collecting - instead, the player will be looking to fulfill the requirements on various cards that they draw throughout the game.
The puzzle cards in Catan: Logic Puzzle display a particular layout of settlements and cities that the player must attempt to build a trade route between. Using hexagonal pieces, the player will need to create a path that navigates around potentially impassable sections of the island - such as deserts or rivers - and connects with the various mines, wood stores and farms, before completing the trade route between the settlements and cities highlighted.
As well as connecting the structures and locations of Catan, players will have to avoid the robbers waiting on the roads and use the knights of the island to protect their traders. The game will contain a total of 40 different puzzles, spread across five main chapters, with four levels of difficulty available to choose from.
The original Catan - which was first released as Settlers of Catan in 1995 - is a board game for three to four players that takes place on a newly discovered island. During the game, players compete to collect victory points by building settlements, cities and roads, as well as gathering development cards. Depending on where they've built their settlements and cities, players will be able to gather resources should the game's dice roll the required numbers. Players can also decide to trade with either the board - if they're stationed next to a port - or their opponents, as long as they provide an attractive deal.
The Catan series is published by Catan Studios, with the German-language edition of Catan: Logic Puzzle being released by Kosmos and the English-language version coming from Logiquest.
Earlier this year, it was announced that the limited-edition 3D version of Catan - which was first released in 2005 - will be returning this summer. The new 3D Edition of Catan will feature textured terrain tiles of the various mountains, forests, fields, pastures and deserts found in the game. Costing $300, the 3D Edition of Catan is set to arrive sometime in August.
The English-language version of Catan: Logic Puzzle will be released in Autumn 2021 at a retail price of £23 ($35).