Scythe designer's legacy board game Charterstone arrives on PC, mobile and Switch
Build a village for the Forever King on PC, Switch and mobile.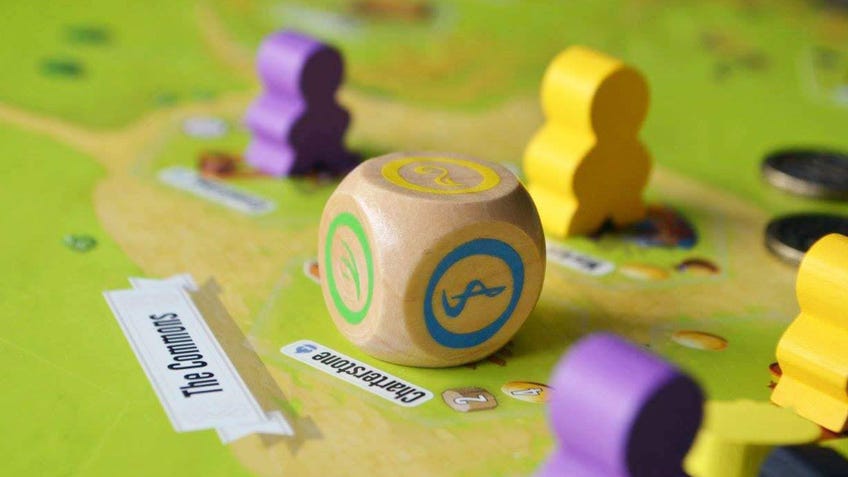 Popular legacy board game Charterstone, created by Scythe designer Jamey Stegmaier, is landing on PC, Nintendo Switch and mobile.
Titled Charterstone: Digital Edition, the upcoming digital board game will use the official Charterstone rules and is cross-compatible across multiple platforms.
A worker-placement title, in the original Charterstone board game you colonise a village while also participating in a story that spans 12 connected games. It's set in the kingdom of the enigmatic Forever King - the mysterious monarch behind your quest into the wilds.
A competitive game where you strive to become the most influential citizen of the town, you move your workers across the board - settlers with unique skills - to build a settlement and gather together resources. Your worker will excel at producing one resource, such as pumpkins or metal.
Stickers depicting your buildings get permanently added to the game board, creating action spaces for you and other players. The village itself gets larger over subsequent games, consequently adding more options for players mechanics-wise.
Over the 12 games required to complete Charterstone, you'll also have to make decisions based on a branching storyline that'll have long-term consequences. As a legacy board game, it's unique in that it can be replayed with just a flip of the board and a 'recharge pack' sold separately - many games that use the legacy mechanic require the destruction of components.
Charterstone's digital board game adaptation includes a solo board game mode (like the original) along with a multiplayer option that comprises either other folks locally or AI players that can be set to easy, medium and hard difficulty levels.
Charterstone: Digital Edition is out now on PC gaming platform Steam, with its Nintendo Switch and mobile editions due to land soon.
Stegmaier recently released a free roll-and-write board game, Nine Worlds, inspired by some of his previous games - including Charterstone. The game is free to download and play at home now.