The Queen's Gambit has caused a massive spike in chess sales
On top of a resurgence during lockdown.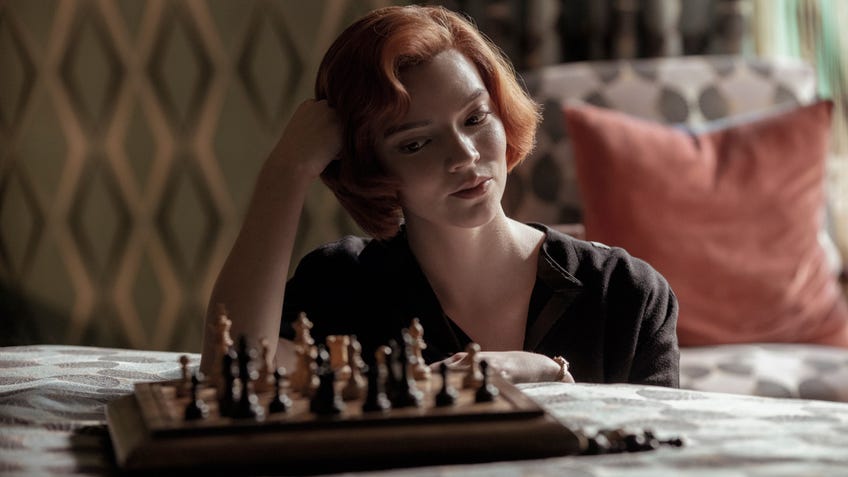 The Queen's Gambit has led to a significant spike in sales of chess sets and books as interest in the classic board game booms thanks to the popular Netflix series.
The acclaimed drama, starring Anya Taylor-Joy as 1960s chess prodigy Beth Harmon, debuted on Netflix on October 23rd. Viewers watched over 40 million hours of the show in its first nine days, according to The NPD Group, with Netflix revealing that the seven-episode miniseries is now its biggest scripted limited series ever, with 62 million households watching in the 28 days.
NPD said that sales of chess sets in the US nearly doubled - rising 87% - over the three weeks following The Queen's Gambit's arrival on Netflix. The market analyst added that weekly sales of chess sets had been "relatively flat" for the 13 weeks leading up to the show's debut.
Books about chess, particularly those teaching players how to play chess, saw an even bigger explosion in popularity. Books including Bobby Fischer Teaches Chess - penned by the grandmaster - Chess Fundamentals by Jose Capablanca, Michael Basman's Chess for Kids and The Complete Book of Chess Strategy: Grandmaster Techniques from A to Z saw US sales grow by more than 600%, according to NPD.
The International Chess Federation (FIDE) previously said that "chess sets" were searched for every six seconds on eBay in the 10 days following The Queen's Gambit's release, a rise of over 270%. (Thanks, CNN.)
The show's success has added to the already growing popularity of chess during lockdown, with FIDE saying that the number of online chess matches played had risen from 11 million each day at the start of 2020 to 17 million following lockdown.
Among the more high-profile lovers of chess are Wu-Tang Clan members and rappers RZA and GZA, who faced off against US Hall of Famer Maurice Ashley and streamers IAmBrandon and Nate Hill in a virtual tournament for charity earlier this year.