Exec behind Terraforming Mars screen adaptation would love to make a Clank! action movie
Arkham Horror and Scythe also among Christopher Kaminski's dream projects.
One of the execs behind the upcoming screen adaptation of Terraforming Mars has revealed some of the other board games he hopes to turn into a movie or TV series.
Christopher Kaminski - whose production company Cobalt Knight acquired the screen rights to Terraforming Mars last year - told Dicebreaker that the studio "started seriously looking into adapting board games" over the summer, before beginning discussions with Terraforming Mars publisher FryxGames early in the autumn.
"Our creative executive, Collin Lieberg, started with a list of the publishers and creators of all our favourite games," Kaminski said. "FryxGames ranked high on that list."
Among the other tabletop games that "ke[pt] coming up in conversation" while movie and TV adaptations were considered, according to Kaminski, were Arkham Horror - the Cthulhu adventure game that spawned an eponymous series including a living card game, Eldritch Horror and Mansions of Madness - and hit strategy board game Scythe, which takes place in the 'dieselpunk' 1920+ universe of artist Jakub Rozalski. ("Rozalski's art captures my imagination like few others," Kaminski enthused.)
At the very top of Kaminski's wishlist, though, is deckbuilding game Clank! Paul Dennen's 2016 game sees players play cards to venture into the lair of a dragon to steal treasure - with its deeper passages holding more valuable artefacts, but greater dangers. As they creep through the dungeon, they must avoid making too much noise and attracting the dragon's ire - risking their very survival. According to Kaminski, the concept is perfect for an action flick.
"As someone who went to Space Camp when he was a kid, it's going to be tough to top [Terraforming Mars,]" Kaminski said. "But the one that tops my list of dream projects is Clank! The central premise and core gameplay mechanics would make for an absolutely delightful action film worthy of the big screen."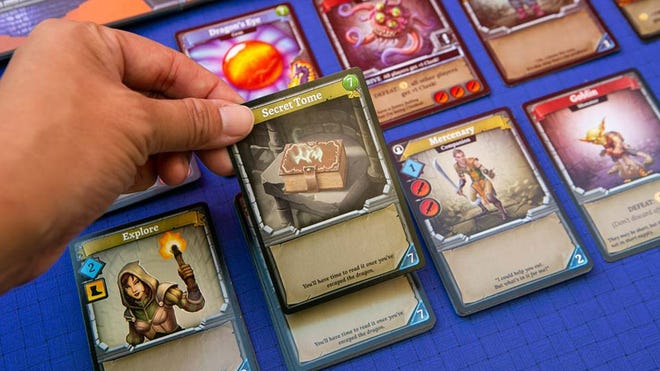 Kaminski expressed his expectation that more board games would find their way to screens both big and small. In recent years, the likes of strategy classic Risk, social deduction game Werewolf, train game Ticket to Ride, narrative roleplaying game Alice is Missing and even family card game Uno have all struck TV or movie deals. Meanwhile, this year will see the release of a new Dungeons & Dragons film, with a Ryan Reynolds-led reboot of the Cluedo film due in 2024.
"I do believe there will be more [tabletop adaptations]," Kaminski predicted. "Board games are historically underrepresented in the world of film and television. We're not the only ones to recognise this opportunity. We've already caught wind of quite a few new deals being struck since we got involved in this space."
These adaptations will include more 'hobbyist' board games outside of the mainstream likes of D&D and Cluedo, Kaminski added, as TV and movie studios increasingly look to snap up tabletop games alongside the rights to novels.
"It's worthwhile to look at book adaptations as an analogy," he said. "The Martian is a perfect example. Andy Weir's book was rejected by every literary agent he approached, so he published it himself. According to what I've read, it sold about 35,000 copies before it caught the attention of 20th Century Studios, née Fox. Most successful 'hobbyist' titles reach those kinds of numbers.
"There are differences in the approach to adapting a novel compared to a board game, but I believe both should be considered equally in terms of their potential for adaptation."
Kaminski recently revealed some new details about the forthcoming Terraforming Mars movie or TV show to Dicebreaker, including plans to set it in a timeline 'between The Martian and The Expanse', introduce original characters and involve the board game's creators in its production.