Great Western Trail creator's next release is a post-apocalyptic airship game called CloudAge
Break the stratus quo.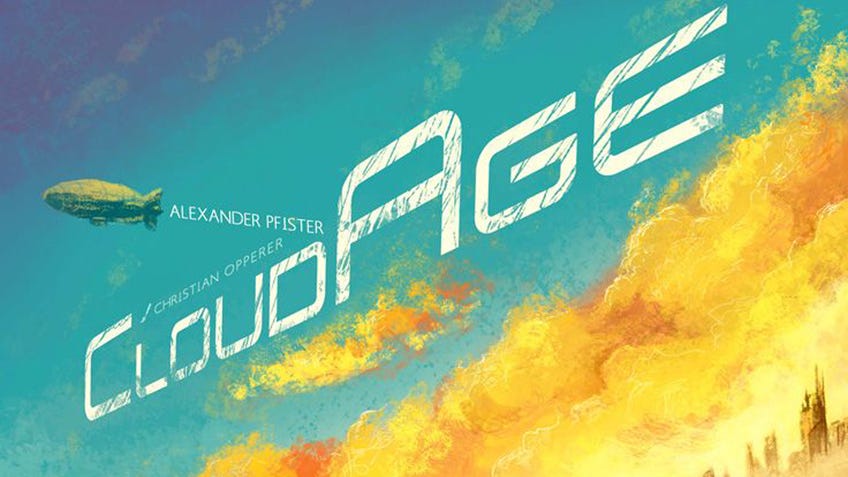 Fly through misty skies over a ravaged wasteland in CloudAge, a campaign-driven board game co-designed by Great Western Trail creator Alexander Pfister.
CloudAge is a game for one to four players in which players assume the role of airship pilots seeking enough resources to help them find a better life. ( Thanks, BoardGameGeek.) The upcoming game is set in a post-apocalyptic world in which a secret organisation called Cloud has destabilised the environment by infiltrating various oil production locations and compromising them. Now a barren wasteland of deserts and cloudy skies, Earth is home to a tough collection of civilisations that survive by flying over the destroyed surface of the planet.
Populated with cities, precious resource sites and dangerous Cloud militia, CloudAge presents a world where players must be brave enough to venture out and gather what they need - or otherwise risk being grounded for good.
A campaign-focused experience, with each session of the game part of a wider overarching narrative, CloudAge challenges players to search the skies for resources, avoiding enemy airships whilst finding opportunities to visit nearby cities to trade. Players can also choose to play CloudAge as a standalone scenario separate from the main narrative of the game.
Resources can be discovered by sending out drones to whatever terrain players think might contain them. Due to the heavy cloud cover, it can be hard to determine where the best stashes might be, with CloudAge using a "sleeving mechanism" to imitate the cloud formations. Any resources found can be used to upgrade airships and entice new crew members from the various cities dotting the landscape to come aboard player ships.
CloudAge will reportedly also feature elements of engine-building - where players gradually unlock new options by upgrading their existing ones - deckbuilding and resource management.
Pfister - who also created push-your-luck game Port Royal, consecutive Kennerspiel des Jahres winners Broom Service and Isle of Skye, and last year's Maracaibo - co-designed CloudAge alongside Arno Steinwender, co-creator of Grecian sailing board game Deukalion and dice-rolling game Take It or Leave It.
Capstone Games, the company behind two-player board game Watergate and train game Irish Gauge, will be responsible for releasing CloudAge outside of Germany.
CloudAge was revealed as part of the publisher's online Capstone Camp stream, which also featured an announcement of the third game in the Iron Rail series, Iberian Gauge, and playthroughs of other upcoming releases from Capstone such as Renature - designed by Wolfgang Kramer and Michael Kiesling - and Curious Cargo.
The release date for Cloudage is currently set for this autumn, with a retail price yet to be confirmed.