Flick treasure and flee the kraken in Tokyo Highway studio's next dexterity game Crazy Octopus
Now this is cephalopod placing.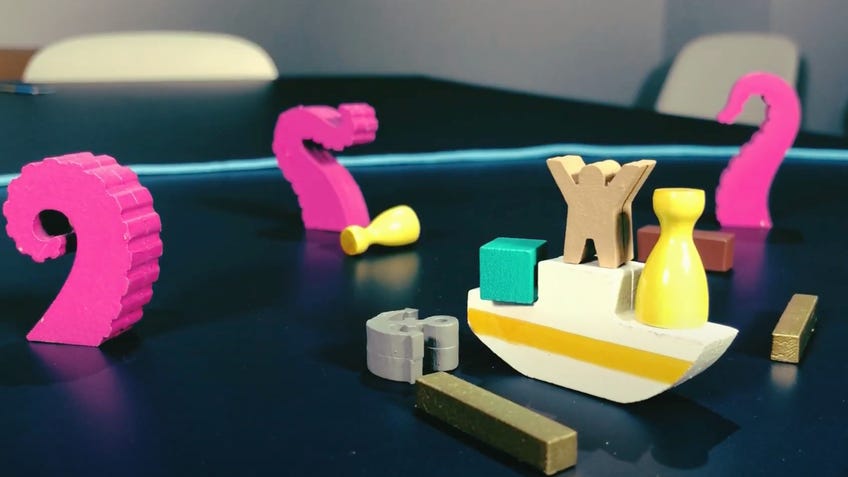 The next release from the studio behind Tokyo Highway sees players diving into a dexterity game about collecting cargo whilst being chased by an angry sea creature.
In Crazy Octopus, players are sailors competing to gather the most floating cargo possible, all whilst avoiding the grasping tentacles of the dreaded kraken.
The reveal trailer for the upcoming board game, posted by publisher Itten Games, shows players starting the game by dropping various wooden cargo pieces, such as cubes, beams and pawns, onto a dome on the table - possibly representing the octopus' head - surrounded by tentacles. Players then seemingly take turns to flick the different pieces of cargo using a small flag, with the aim being to send the pieces to their individual boats.
Once a piece touches a player's boat, the player must balance the cargo atop their wooden ship. Each ship is capable of holding a certain amount of cargo - however, the longer they remain in the water, the greater the target they become. The ships can also be moved to a more advantageous position by flicking their anchor tokens across the table.
Every few rounds, the players roll a black die with red spots by dropping it onto the wooden dome. A blank face moves a tentacle to the die's resting place, while a red spot relocates the main dome. The black die can collide with players' ships, spilling some of their cargo.
A seahorse marker moves along a string of beads coloured turquoise and black - which could potentially indicate whether the black die will be cast that turn, although the marker could alternatively be used to track scoring. The string doubles as a marker for the edge of the play area.
We'll soon be launching our brand new title "Crazy Octopus" on Kickstarter. It's a fun flicking game where players collect cargos on a ship while escaping from the large octopus (here's the teaser video). See y'all soon! #itten #crazyoctopus @kickstarter https://t.co/xyDYUXalx2 pic.twitter.com/zoMzDNAYhZ

— itten-games-en (@itten_games_en) August 7, 2020
Itten Games is a Japanese tabletop studio known for creating unusual and abstract titles such as two-player game Tokyo Highway - which sees players attempting to balance cars on top of thin sticks representing various roadways - and Moon Base, which has players placing different coloured rings in order to build their modules.
Having only used Kickstarter once to fund a game - Stonehenge and the Sun, an abstract pendulum-swinging board game which raised ¥2,455,459 (£17,605) during a campaign last year - Itten will be launching a second crowdfunding campaign for Crazy Octopus on Kickstarter sometime "soon".