Physical and digital versions of D&D Player's Handbook and DM's Guide are both on sale
Alongside several other books.
Several books for Dungeons & Dragons 5E, both physical and digital versions, are currently on sale.
Various rulebooks, sourcebooks and adventure books for the tabletop roleplaying game are available at a discounted price via Amazon US and D&D Beyond, the online platform that features a library of digital Dungeons & Dragons books and materials.
Currently on the US version of Amazon, several key books for D&D 5E are discounted – including the Dungeons & Dragons 5E Player's Handbook,which players can get for almost half price at $26.10 (£20), rather than the usual $49.95 (£38.83). With the Player's Handbook, players can learn how to create their D&D characters – choosing between the various classes and playable species, as well as equipment and spells – as well as how to play the TRPG itself.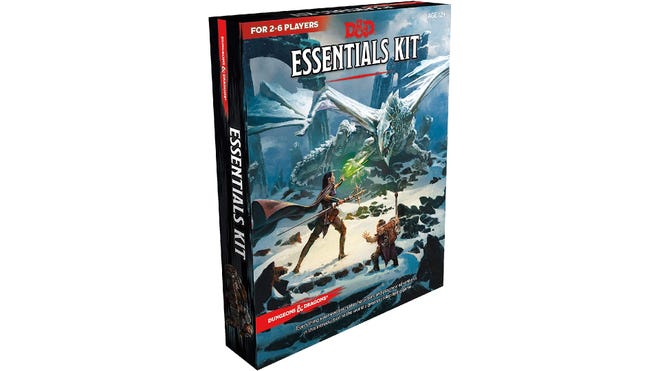 Another key D&D book currently on sale at Amazon US is the D&D Dungeon Master's Guide priced at $27.97 (£21.74) instead of $49.95 (£38.83) - which is the essential tool for people looking to run a campaign for the fantasy tabletop RPG. With the DM's Guide, players can learn how to plan, organise and run a D&D 5E game: including devising story-beats, playing characters, making and using maps and managing combat encounters.
Other notable Dungeons & Dragons items featured in the current Amazon US sale is the D&D Essentials Kit – a boxed collection of everything a group needs to get started with Dungeons & Dragons, such as a rulebook, adventure and character sheets – now priced at $16.99 (£13.21) instead of $24.99 (£19.43), as well as more recent additions into the D&D catalogue such as the sourcebook Fizban's Treasury of Dragons, currently available for $27.02 (£21.07) instead of $49.95 (£38.83), and Candlekeep Mysteries: a collection of short adventures priced at $24.05 (£18.70) rather than $49.95 (£38.83).
Liv teaches you how to make your D&D character.
Over on D&D Beyond, several digital D&D books are currently available at a discounted price. For players getting stuck into the recently released video game Baldur's Gate 3, an associated adventure – D&D: Baldur's Gate – Descent into Avernus – is priced at $22.49 (£17.48), down from $29.99 (£23.32). Meanwhile, players can get the Dungeons & Dragons 5E sourcebook, the Monster Manual, for $17.99 (£13.99) instead of the usual $29.99 (£23.32), as well as the Critical Role inspired Tal'dorei Campaign Setting Reborn for a discounted $29.99 (£23.32) rather than $39.99 (£31.09).
It is unconfirmed as to when these two D&D 5E sales will end, with both being available for a limited time only.