WWE wrestlers Xavier Woods and Ember Moon are playing D&D with DM Aabria Iyengar next month
Joining fellow superstars MACE and Tyler Breeze for charity session.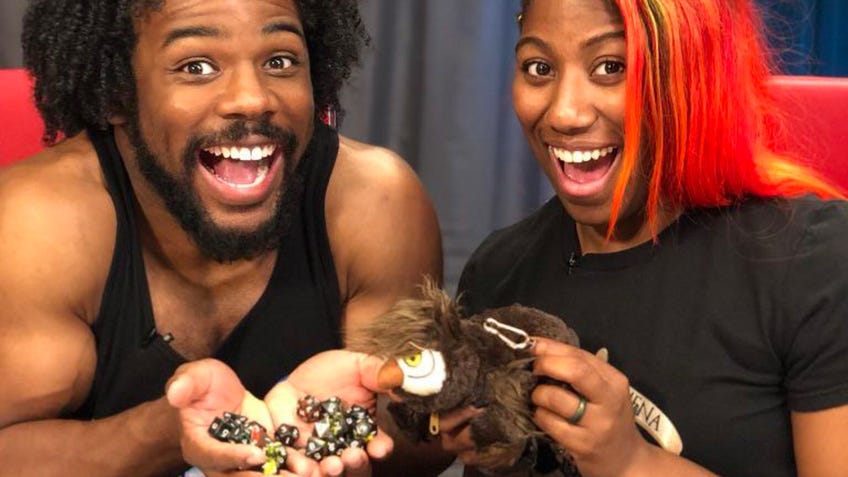 A party of WWE superstars are swapping wrestling throws for saving throws next month, as they play Dungeons & Dragons for charity.
Xavier Woods - part of hugely popular tag team The New Day - former NXT Women's Champion Ember Moon, masked Retribution group member MACE and NXT Tag Team Champion Tyler Breeze will be led by actual play star and incoming Dimension 20 and Critical Role DM Aabria Iyengar, whose Chaos Carnival adventure will see the group's characters searching for their lost precious belongings underneath a mysterious Big Top.
The celebrity Dungeons & Dragons session will take place as part of D&D Live 2021, publisher Wizards of the Coast's two-day online event surrounding the tabletop RPG scheduled to take place on July 16th and 17th. Woods, Moon and Breeze, along with WWE superstars Alexa Bliss and Dio Maddin, previously played the RPG with D&D designer Jeremy Crawford for last year's D&D Live event. The three have also played in their own Dungeons & Dragons campaign, Rollout, on Woods' video game YouTube channel UpUpDownDown.
The announcement of the WWE game follows the similarly star-studded announcement of a D&D Live 2021 session featuring Hollywood actors, directors and comedians including Jack Black, Reggie Watts and Kevin Smith run by guest DM Kate Welch. Lost Odyssey: Last Light is teased as a pirate adventure featuring "dragons, krakens and sea giant queens", and will raise money for video game children's charity Extra Life.
The Chaos Carnival Table will also be in aid of a good cause, fundraising for Connor's Cure, a fund for the Children's Hospital of Pittsburgh founded by wrestlers Triple H and Stephanie McMahon in honour of late WWE fan Connor Michalek, who passed away aged 8 in 2014.
Alongside various celebrity games of Dungeons & Dragons, D&D Live 2021 will preview upcoming releases for the tabletop RPG, including this year's The Wild Beyond the Witchlight adventure and D&D's latest crossover with Magic: The Gathering in sourcebook Strixhaven: A Curriculum of Chaos, as well as MTG's own D&D-themed set Adventures in the Forgotten Realms. Some "surprise announcements" have also been teased.
D&D Live 2021 will take place on July 16th and 17th, with times yet to be announced for the Chaos Carnival and Lost Odyssey: Last Light sessions.