Escape: Curse of the Temple is getting a roll-and-write game spin-off
Hidden gem.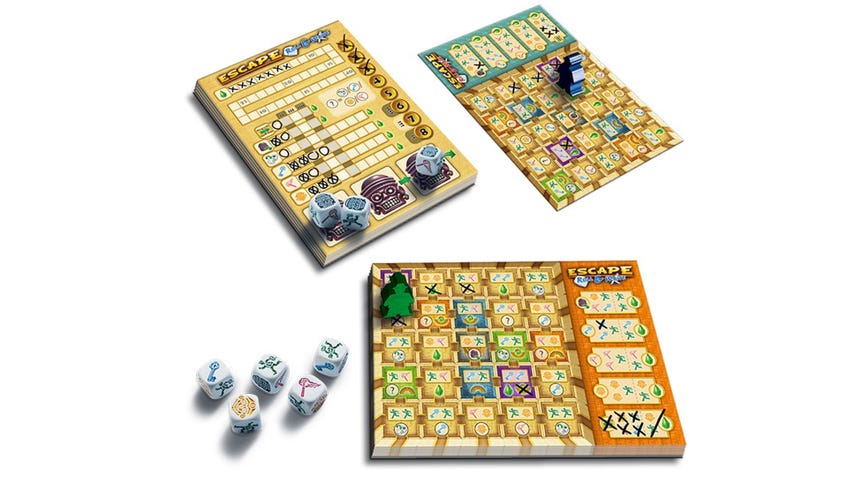 A new standalone spin-off from frantic co-op board game Escape: Curse of the Temple, Escape Roll & Write, is arriving later this year.
Escape: The Curse of the Temple was the first entry in the co-op board game series in which players roll a pool of dice to travel through a ruin in search of priceless gems.
Timed at exactly 10 minutes by an included soundtrack CD, Escape: The Curse of the Temple was a family board game played in real time as players rushed around to unlock doors, find gems and discover an exit before the timer hit zero.
Upcoming board game Escape Roll & Write, which is currently live on Kickstarter, transforms the hectic adventure into a roll-and-write game about carefully choosing which dice to use and bonuses to claim.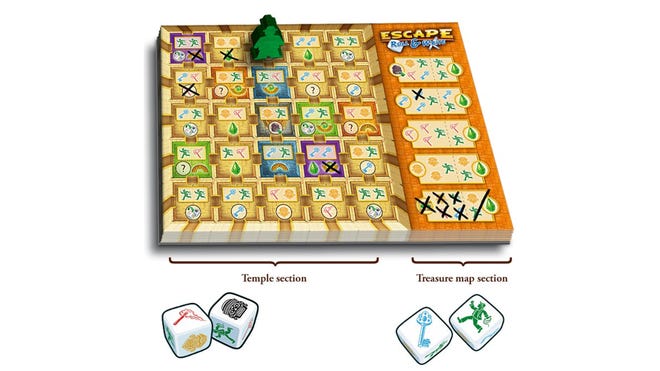 In Escape Roll & Write, each player receives their own temple sheet to explore, with different chambers containing different bonuses and different requirements to get in. Once everyone has a temple sheet, an adventure sheet is chosen - with the level of difficulty determining how many gems are needed to win.
The starting player rolls eight dice, two at a time, and decides whether to keep the results for themselves or place the dice in the common pool. Any cursed dice - represented by black symbols - are set aside and cannot be used for the next three turns unless unlocked. The results that the active player chooses to take can be used to move through the temple chambers, where they can claim bonuses and precious gems. Certain gems require at least two players to occupy rooms of the same colour to unlock, with players gaining a gem each if they're successful.
Any dice placed in the common pool can be used by everyone except the active player to complete treasure maps that earn additional gems and actions on the adventure sheet. Additional actions can include rerolls, unlocking cursed dice and a free die symbol to use whenever a player needs it.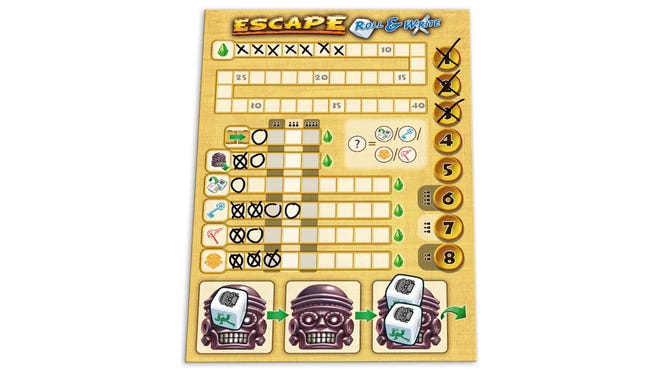 Once players have collected the required gems they need, the final round of the co-op board game begins. The players must escape the temple before the round ends - or risk being trapped in its chambers forever.
Escape Roll & Write is the board game debut of designer Sebastian Schwarz, with previous Escape series entries - such as co-op board game Escape: Zombie City - being designed by Kristian Amundsen Østby, who is also the co-creator of upcoming board game Capital Lux 2: Generations.
Queen Games is the publisher behind Escape Roll & Write, and is responsible for releasing the previous Escape titles and family board game Kingdom Builder.
Escape Roll & Write is live on Kickstarter until June 1st. A pledge of $20/£17 gets a copy of the core game, estimated to arrive sometime in November 2020.