Final Fantasy 7 Remake board game will have you hunting for materia as Cloud, Sephiroth and friends next spring
Go head-to-head or two-on-two.
With classic RPG Final Fantasy 7 in the middle of its long-awaited remake trilogy on games consoles, with second chapter FF7 Rebirth due out next year, the beloved video game is now due to see another remake: this time, as a board game.
Final Fantasy maker Square Enix revealed that a Final Fantasy 7 Remake board game will be released next spring. Snappily titled Final Fantasy VII Remake Board Game Materia Hunter - with exactly as much grammar in Square Enix's own formatting as I've included there - the tabletop adaptation is a card-driven game for two or four players (but not three) that sees the familiar faces from the series scrapping over its powerful materia used to cast spells and summon monsters.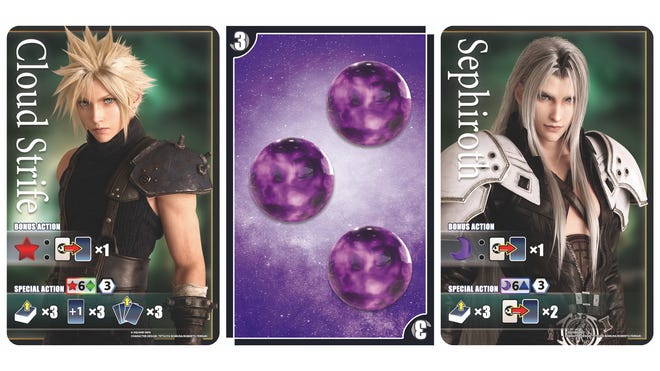 Using the likes of Cloud, Sephiroth, Tifa, Aerith and Yuffie - with 20 characters in total - players will go head-to-head, either one-on-one or in teams of two, to try and collect the 80 materia cards, divided into their five colour-coded types. There are also medals you can earn, featuring Final Fantasy's adorable moogle mascot.
Each game is said to last around half an hour tops, with the most materia determining the winner as you'd expect.
That's about all we know for now, along with the expectation that Final Fantasy VII Remake Board Game Materia Hunter will release next April with a price tag of £39.99/$44.99.
A Final Fantasy 7 Remake board game was first revealed by Dicebreaker last October, with a teaser spotted at the booth of distributor Hobby Japan at German board game convention Essen Spiel. The "original boardgame" was said to be "coming soon", alongside a tabletop adaptation of Final Fantasy spin-off Chocobo's Dungeon initially teased for 2023. Chocobo's Dungeon: The Board Game has since been revealed as a co-op title due for release in March 2024.
Materia Hunter was revealed alongside an upcoming tabletop RPG - the first such official TRPG based on Final Fantasy - adaptation of its hit MMO Final Fantasy XIV: A Realm Reborn. The Final Fantasy XIV TTRPG will be released next May, featuring scenarios from the video game's devs that tie into its main story.