Final Fantasy is getting its first official tabletop RPG for FF14's 10th anniversary
Includes scenarios written by MMO's devs that tie into A Realm Reborn's main quest.
Final Fantasy will release the first-ever tabletop RPG adaptation of the long-running video game series next year, in celebration of the 10th anniversary of MMO outing Final Fantasy XIV: A Realm Reborn.
Final Fantasy XIV TTRPG will be based on A Realm Reborn, the immensely popular multiplayer instalment in the franchise released in 2013 as a reboot of the failed original Final Fantasy XIV that flopped in 2010. A Realm Reborn has since gone on to be widely beloved and successful, expanding with four critically acclaimed expansions - with a fifth, Dawntrail, due next summer - and being temporarily pulled from sale as the result of player demand in 2021.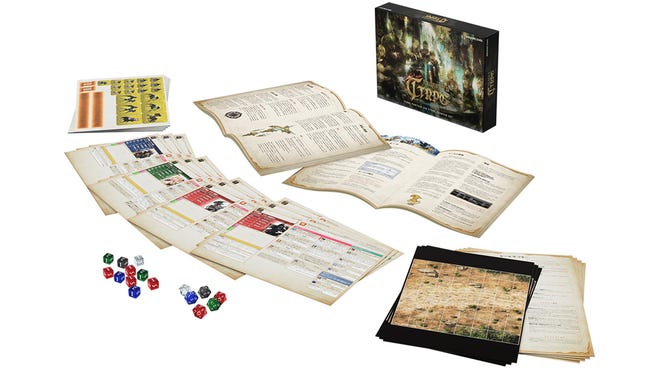 Final Fantasy publisher Square Enix said that the Final Fantasy XIV TTRPG would be created with the involvement of A Realm Reborn's development team, who have helped to write the tabletop RPG's scenarios. Along with the scenarios from the team, the FF14 RPG is said to include familiar locations and dungeons from the video game, as well as NPCs, monsters and FATEs - dynamic events that occur out in its open world.
As in traditional TRPGs such as Dungeons & Dragons, the Final Fantasy XIV TTRPG will see one player run sessions as game master while the rest of the group roleplay characters within A Realm Reborn's world of Eorzea.
The upcoming RPG will be released as both a Player Book, which will cover the basic rules for playing and character creation, and Gamemaster Book, which will include three adventures that connect with FF14's main story. It's yet to be revealed whether the RPG will run on an original gameplay system or be based on an existing framework such as D&D 5E.
A starter set will include both books, along with four pre-made characters for four of the TRPG's jobs, based on classic Final Fantasy classes: Warrior, White Mage, Dragoon and Black Mage. There'll also be six twenty-sided dice and 10 six-sided dice - branded with the FF14 logo - an encounter map, character tokens and ability markers.
While the Final Fantasy XIV TTRPG is the first official tabletop RPG based on Final Fantasy, it's far from the first tabletop game to draw from the storied JRPG series, with recent RPGs such as Fabula Ultima and Beacon playing homage to the series' influence, while fan-made offerings such as Final Fantasy RPG 3E and Eorzea RPG offer more direct (albeit unofficial) adaptations of the series.
The Final Fantasy XIV TTRPG will be released next May, with its starter set costing £50.99/$59.99.