Flash Gordon board game headlines a 40-year celebration of the campy cult-classic film
Flash, I love you! But we only have fourteen hours to play this game!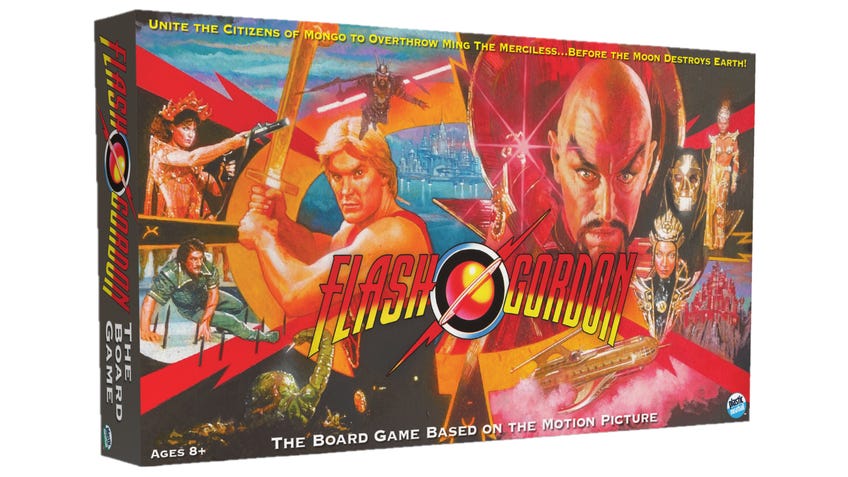 A "retro-style family" Flash Gordon board game will launch on Kickstarter to celebrate the 40th anniversary of the 1980 space opera - itself based on the Alex Raymond comic strip from the '30s.
Players will hop around the several moons orbiting the planet of Mongo in a bid to gain allies and gather resources that will aid their eventual clash with Ming the Merciless. More exact details on how the board game plays aren't yet available, but the phrase retro-style immediately evokes images of The Game of Life, Snakes and Ladders and their ilk.
Plastic Meatball president Mark Morse said in a press release he wants the 40th anniversary celebration to simulate the same commercial fervour that once accompanied large blockbuster productions, but not Flash Gordon. "I was always frustrated that a proper merchandise program was never developed around the film," Morse said.
Two board games based on the original comic were produced in 1965 and 1977, and a tabletop RPG using the Savage Worlds system was Kickstarted in November 2017. Tabletop card game Flash Gordon: Death to Ming! - adapted from the film - was recently announced for early 2021.
The original film featured an American football player who, in the style of '70s and '80s sci-fi, found himself whisked away to another world caught in the throes of the evil Ming the Merciless. The athlete becomes Flash Gordon and rallies a coalition of peoples from Mongo to face the cosmic threat. The film was commercially successful upon release, and its popularity has since been bolstered to cult-classic status by fans.
Plastic Meatball will launch a Kickstarter in January to support production of the Flash Gordon board game, along with more details and official artwork. Other licensed products, including commemorative drinking glasses, clothing and enamel pins, will be made available at the same time.