Spirit Island creator's co-op board game For Science! launches on Kickstarter, publisher responds to COVID-19 sensitivity concerns
Real-time dexterity game rebranded from 'Science or Die'.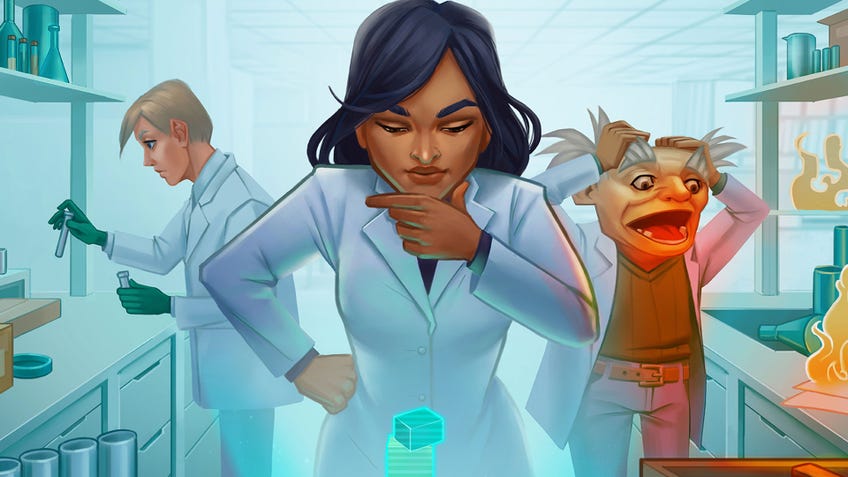 Race against the clock to find a cure to disease by building unstable structures in For Science!, the latest Kickstarter campaign from the designer of acclaimed co-op board game Spirit Island.
For Science! is a dexterity board game that sees players assuming the role of researchers, bureaucrats, lab workers and more as they attempt to find a cure to a disease spreading across the world. In order to create a cure, players will need to play a series of cards - each displaying a particular chemical code - that successfully connect with one another until they have a complete cure.
Once they have their cure, players need to carefully balance each of the required coloured pieces to mirror the pattern shown on the cards. Players receive knowledge for every cure that they successfully create, which can be spent towards figuring out a master cure. The master cure can be acquired by solving a set of tile puzzles, with each combination of tiles revealing what will be needed for that particular master cure.
All of this is done in real time, with players having just 15 minutes to successfully complete the ultimate cure and emerge victorious.
For Science! is designed by R. Eric Reuss, the creator of co-op board game Spirit Island. Casting players as powerful natural deities fending off invaders trying to colonise an island, Spirit Island has been acclaimed as one of the best board games of recent years.
In a statement on For Science!'s Kickstarter page, the game's publisher Grey Fox Games acknowledged the potential for comparisons between For Science!'s disease-curing theme and the current real-life coronavirus pandemic.
Despite rebranding the game from its original title of 'Science or Die' to "to avoid being flippant about death in a time when people are in fact losing loved ones", the company defended its decision to keep the game's general premise and launch the Kickstarter campaign now "as there is no way, nor any reason, to turn a blind eye to the state of the world". The publisher added it had donated to the charity Direct Relief in support of those helping others during the COVID-19 crisis.
"For Science! is not a game about hard science," it said. "It is a fun and social game about puzzling cards and tiles together and stacking blocks in a very satisfying way. Yet, the underlying subject of how we deal with crises generally and health crises in particular is one that we take seriously and one that we think is worth considering."
For Science! will be on Kickstarter until May 2nd 2020. A pledge of $49 (£40) gets a copy of the base game, estimated to arrive sometime in December 2020.