In Case of an Emergency is a tabletop RPG inspired by reality-bending video game Control, and it's out now
From creator of Carly Rae Jepsen RPG Boy Problems.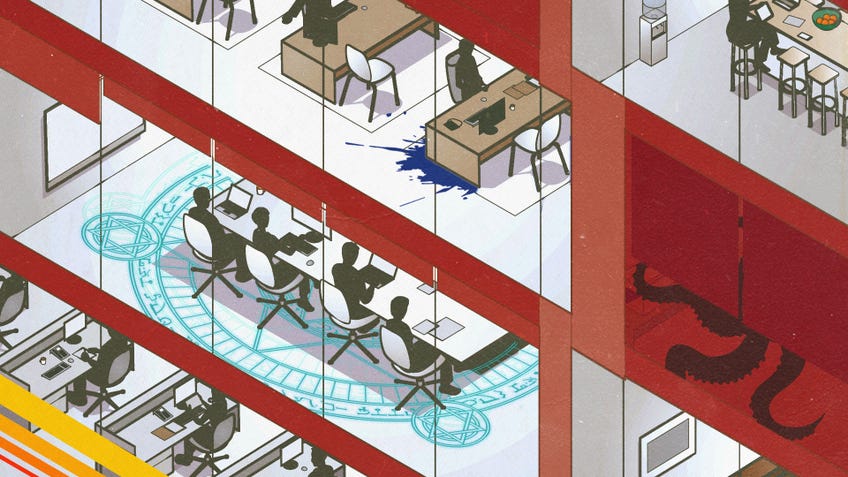 The designer of Carly Rae Jepsen RPG Boy Problems has released his latest game, heavily inspired by last year's acclaimed video game Control.
Colin Cummings' In Case of an Emergency sees players take on the roles of employees of foundation. (yes, spelt with the full stop), a shady corporation with a chequered history and questionable ethics.
As the result of a mysterious "incident", the players' workers find themselves locked inside the building and tasked with solving "The Emergency" by an equally mysterious group called The Shareholders.
Originally announced in 2019, In Case of an Emergency draws parts of its atmosphere and tone from Control, last year's action video game set in the offices of the Federal Bureau of Control, a secretive agency beset by paranormal happenings, Objects of Power with the ability to bend reality and the threat of the supernatural Hiss.
Like Control, In Case of an Emergency is also said to be influenced by online collaborative fiction project SCP. The world and lore of SCP - which stands for "special containment procedure" - is created and expanded by a number of users in short stories and other works, centred around a fictional organisation called the SCP Foundation.
In the RPG, the GM - known as The Director - determines one or more emergencies that the players' characters must resolve in a given number of hours. The situations range from relatively minor occurrences such as mysteriously multiplying office supplies to severe threats such as spider creatures, creepy mannequin people and collisions with alternate universes.
At the beginning of the game, players' characters can roll a single six-sided dice to determine the result of various tests, achieving anything from a failure to a critical success, with the potential for partial successes and complications.
Halfway through the game, the characters gain new powers from The Shareholders, adding one of a number of supernatural powers - such as telekinesis, a sixth sense or physical elasticity - that also grant an extra d6 when performing tasks.
In Case of Emergency is designed to be played as a one-shot in around two to four hours with between four and six players, plus the GM.
The RPG is available to download now as a digital PDF from Itch.io, where it costs $10.
Cummings has also announced several new titles in the designer's Carly Rae Jepsen-inspired series of RPGs, following heist game Boy Problems and cultist one-shot Black Heart. Boy Problems B Side - inspired by the pop star's own B Side albums - a new "v2.0" edition of Black Heart and a third game in what's described as the "Carly trilogy", Warm Blood, said to be influenced by noir-detective video game RPG Disco Elysium, have all been confirmed as being in the works, with releases dates yet to be announced.