Search for hidden treasure on the seabed in upcoming board game Lost Atlantis
Such wonderful things surround you.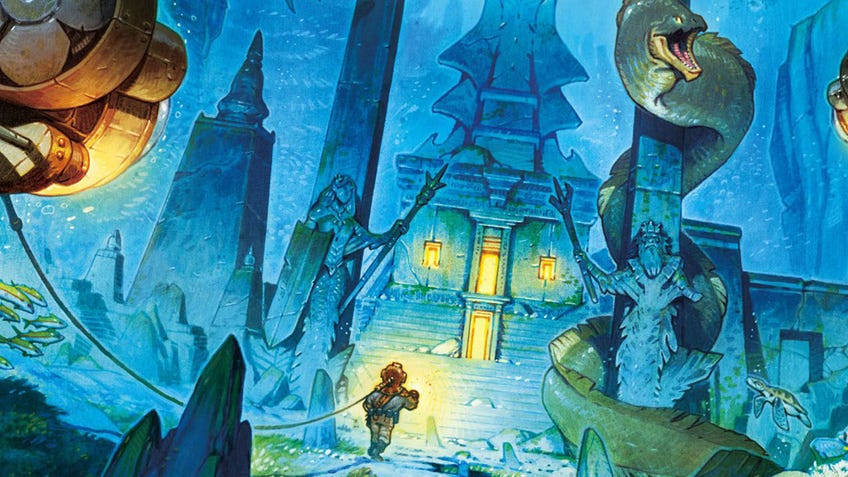 Dive into the depths of the ocean on the hunt for forgotten riches in underwater exploration board game Lost Atlantis, from the makers of the Smash Up series.
Hidden amongst the seafloor is the city of Atlantis - a collection of sunken pyramids guarded by enormous monsters that has lain dormant until now. Upcoming board game Lost Atlantis sees players piloting their own submarine as they attempt to access the treasures protected within the seven pyramids, whilst avoiding the dreaded sea monsters patrolling the ruins.
A board game for two to four players, Lost Atlantis has players starting with a basic submersible that they will eventually be able to upgrade as they collect more rewards from the board game's stack of seafloor tiles.
As players continue to explore, they will gradually place tiles to form the game's 'board'. During a demo at last year's PAX Unplugged (which is run by Dicebreaker parent company Reedpop), a representative from publisher AEG told Dicebreaker that the game could be played either using a set layout size on a table or expanded to fill much larger spaces such as a floor.
Any empty space between tiles counts as the seabed, with players able to pilot their subs around and place the tiles to represent locations. There are also a selection of puzzle pieces and pyramid clue tokens, with the reward being the lure of more precious treasure and the discovery of the pyramids.
Players can venture outside of their subs to further explore the seabed, with the limitation being the length of their diver's air supply pipe.
The designers behind Lost Atlantis are Tero and Jani Molliis, co-creators of insect control game Hornet and set-collection board game Foreclosed!
AEG - creator of merchant simulator game Istanbul and family board game Tiny Towns, which recently received its first expansion called Fortune - is the company behind Lost Atlantis.
The Kickstarter campaign for Lost Atlantis is set to launch sometime in spring 2020.