Pick up all five Commander decks from Magic: The Gathering's Ikoria: Lair of Behemoths set for 35% off
A monster saving.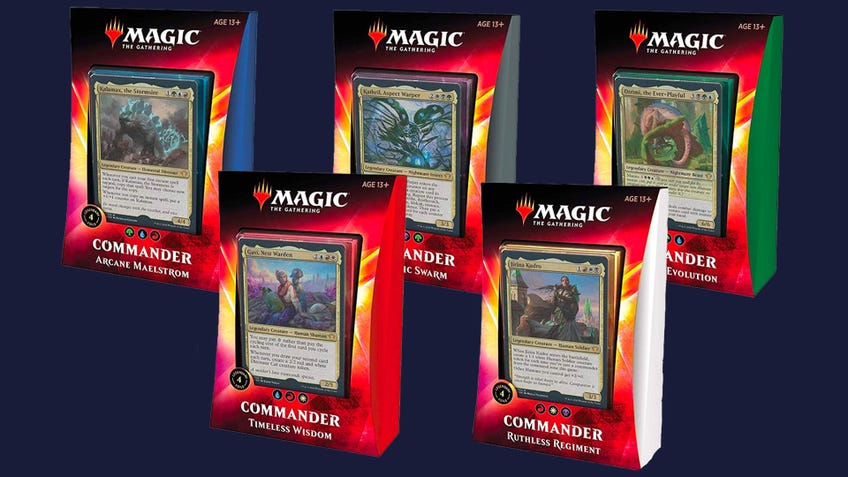 A bundle including all five Commander decks for this year's Magic: The Gathering set Ikoria: Lair of Behemoths is currently available for 35% off their combined price on Amazon US.
The collection includes the Arcane Maelstrom, Enhanced Evolution, Ruthless Regiment, Symbiotic Swarm and Timeless Wisdom decks released for Ikoria earlier this year.
Commander is one of MTG's most popular formats, allowing groups of four players to face each other with 100-card decks and their life points increased to 40. Each deck is led by a legendary creature - its commander.
The Commander decks are ready-to-play, allowing players to pick between 15 commanders - which determine the mana colours of the other 99 cards in the deck and can be cast onto the field from the Command Zone during matches.
Released in the spring, Ikoria: Lair of Behemoths introduced the ability for players to combine cards together to create monsters using the mutate keyword.
The Ikoria Commander decks include 71 cards exclusive to the decks, alongside 20 foil legendary creatures in the combined set. The decks include commander and monster pairs that work together to enable more powerful abilities and attacks.
The Ikoria: Lair of Behemoths Commander deck bundle is currently $89.99 on Amazon US, 35% off its usual asking price of $138.43. The offer is one of Amazon's daily deals, meaning it will only be available until the end of today, Monday November 30th.