Two years after a signed Magic: The Gathering Black Lotus sold for a record $500,000, another has appeared at auction
Gem Mint 10 copy autographed by designer-artist Christopher Rush sold in January 2021 holds the title for the most expensive MTG card of all time.
Could we be set for another record-breaking Magic: The Gathering card sale? An autographed Alpha Black Lotus - the most valuable Magic: The Gathering card ever made - has appeared at auction, two years after a similar card sold for over half a million dollars.
Black Lotus is, of course, Magic: The Gathering's iconic holy grail card. Just over 1,000 copies of the card from MTG's earliest Alpha set were ever printed back in 1993, with just 105 graded by card condition specialist PSA in the three decades since. Of those, only six have been rated at a perfect Gem Mint 10.
"The popularity and playability of the Black Lotus became a detriment to the card itself, causing players to use many of the original 1,008 Alpha Black Lotuses in competitive play," auction house PWCC said of the rarity of finding a Black Lotus in such condition. "These were the days when card sleeves were an afterthought, and many carried around their decks with rubber bands."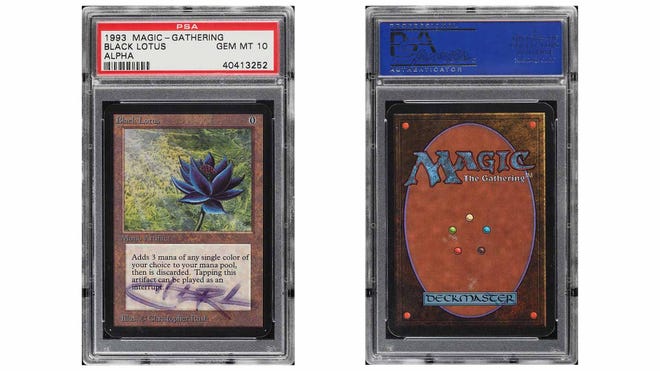 Both the Alpha Black Lotus sold in January 2021 for $511,100 - the most ever paid for a Magic: The Gathering card - and the card featured in PWCC's upcoming sale have been graded at a PSA 10, indicating their effectively flawless condition. That means "impeccable centering and edges nearly devoid of the paint chipping or whitening characteristic of many cards from this issue".
Both cards also feature the autograph of Christopher Rush, the late designer and illustrator responsible for creating the Black Lotus who died in 2016. In addition to Black Lotus, Rush illustrated more than 100 Magic: The Gathering cards, as well as working on the game's five iconic mana symbols that remain to this day.
Rush's signature adorns the protective case around the cards, rather than the cards themselves. In the case of this latest Alpha Black Lotus, Rush's autograph has not been authenticated by PSA.
Despite the staggering amount paid for the autographed Black Lotus in 2021 - and the card's continued demand throughout last year, along with the rest of MTG's Power Nine - the upcoming auction due to open on the evening of March 2nd will begin at a relatively modest $1,000. That's about the same as buying one of Magic's 30th Anniversary boosters, which include unplayable reprints of Black Lotus and other Alpha cards.
As well as the signed Black Lotus, the auction will include 14 Magic: The Gathering cards from the Alpha set graded at PSA 10, including copies of Ancestral Recall, Birds of Paradise, Time Walk and Mox Emerald, Pearl and Ruby.