Magic: The Gathering card sells for six figures, becomes second-most valuable card after Black Lotus
Lord of the Pit in 'pristine' condition beat the previous auction price for the card by almost $100,000.
A rare Magic: The Gathering card from the TCG's earliest Alpha set has set a new six-figure record at auction, becoming the second-most valuable card after the iconic Black Lotus.
Lord of the Pit dates from Magic: The Gathering Limited Edition Alpha, the very first print run of the trading card game released in August 1993. The set includes some of the rarest Magic: The Gathering cards of all time, including the infamous Power Nine - nine cards banned from tournaments due to their in-game strength that went on to be highly sought-after and valued.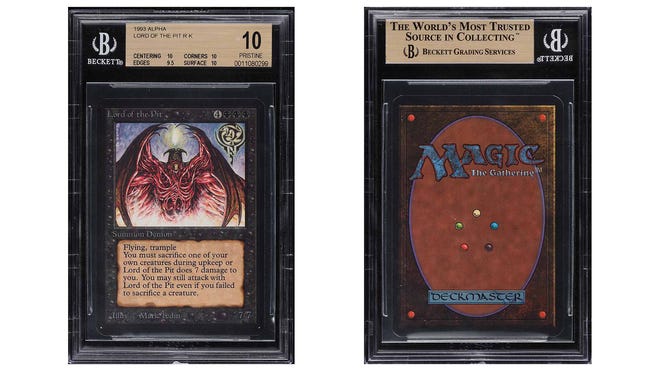 Like the Power Nine, Lord of the Pit was classified as a rare card in Alpha, meaning that approximately 1,008 copies were ever produced. (Though if you have money to burn on an unusable replica, MTG maker Wizards of the Coast has you covered in its $1,000 30th Anniversary Edition boosters.) Just 84 copies have subsequently been graded by card grading specialist Beckett, with an additional 45 rated by PSA, increasing its rarity in the 30 years since Alpha's release.
The copy of Lord of the Pit sold by auction house PWCC on January 19th was rated by Beckett at its highest 'Pristine 10' grade, making the card's condition effectively as flawless as they come. The card is the first Lord of the Pit to be graded as Pristine 10 by Beckett; PSA has only graded two further copies as its own comparable Gem Mint 10.
The Pristine 10 Lord of the Pit ultimately fetched $105,000 under the hammer, beating the previous auction record for the card by almost $100,000 after a Gem Mint 10 copy sold for $5,101 in September 2021.
"A first-print Lord of the Pit in Pristine condition is nearly impossible to come by," said PWCC's TCG manager Peter Petipas. "This is one of the most powerful monster cards released in the Alpha printing so it's rare to find a copy that hasn't sustained damage due to heavy play."
According to PWCC, the figure makes Lord of the Pit the second-most valuable Magic: The Gathering card after the Alpha Black Lotus. A Gem Mint 10 Alpha Black Lotus autographed by designer-illustrator Christopher Rush sold for over $511,000 in January 2021, making it the most expensive MTG card of all time.