'Once in a lifetime' Magic: The Gathering collection valued at €1m includes three complete sets of Beta - with a trio of Black Lotus cards
German fan's collection amassed over 25 years contains almost every card from every MTG base set.
A Magic: The Gathering player's card collection has been valued at €1 million due to its "once in a lifetime" list of rare and valuable cards from the TCG's earliest releases.
Most impressively, the anonymous German collector's library features three complete sets of Limited Edition Beta, Magic: The Gathering's second-ever print run dating from October 1993.
The Beta print run shares its list of 302 cards with MTG's debut Alpha set - plus the addition of five new basic lands (one for each mana colour), Circle of Protection: Black and Volcanic Island - and the later Unlimited reprint, all released within a five-month period between August and December 1993.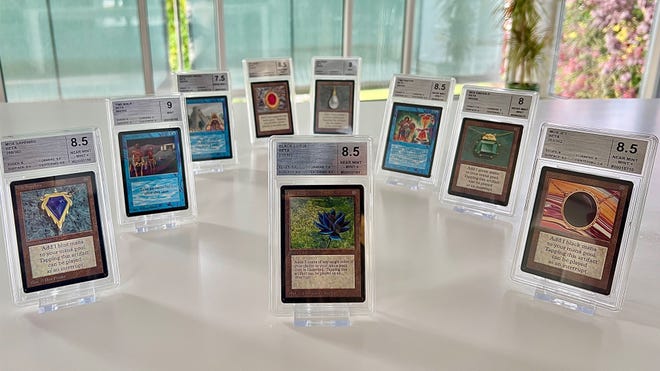 Alongside Alpha and Unlimited, Beta is considered among Magic: The Gathering's most valuable sets, in part due to its inclusion of the Power Nine - nine MTG cards banned for their in-game strength that subsequently went on to become some of the rarest and most valuable MTG cards ever made.
Leading the Power Nine in value and rarity is the Black Lotus, the iconic mana-generating artifact that alone can fetch up to tens of thousands of dollars under the hammer. In January 2021, a Black Lotus signed by designer-illustrator Christopher Rush sold for over $500,000, making it the most valuable Magic: The Gathering card of all time.
By including three full sets of Limited Edition Beta, this latest collection includes not one, but three, copies of Black Lotus, as well as the other Power Nine cards. The collection also features multiple copies of the popular Sol Ring artifact, classic mana-making creature Birds of Paradise and the ten original dual lands included from Alpha to Revised, which generate two types of mana.
According to trading card grading specialist Cardmarket, which valued the collection, a single complete Beta set can be worth approximately €300,000 based on the condition of cards, leading to its total estimate of €1 million for the triple set. Even the most commonplace cards in the set are worth €60 at a minimum, up to tens of thousands for rarer highlights.
"It is not unusual to see high-value cards, but an entire Beta collection is something you never see," said Cardmarket head Georg Settnik. "To have three full Beta set collections? That is truly a once-in-a-lifetime collection."
Despite the whopping price tag, the owner of the cards - who asked to remain nameless - said they had purchased them over the course of 25 years as a hobby, rather than an investment. They told Cardmarket they had gradually ordered each set from a friend in the United States by spending spare money as a "treat", completing their first full Beta set in 1997.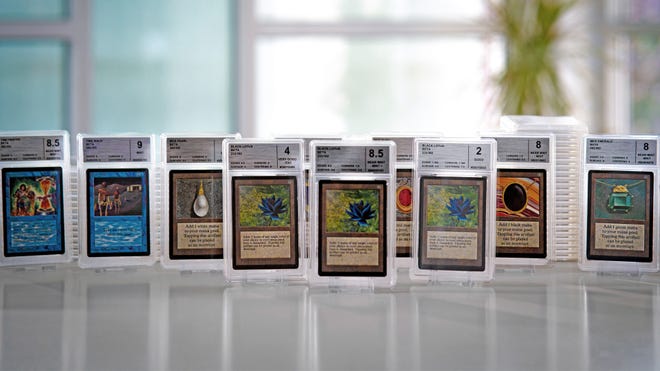 In addition to the trio of Beta sets, the German collector also owns a complete set of Arabian Nights, Magic: The Gathering's first expansion released in December 1993, including seven copies of Bazaar of Baghdad - a rare card worth up to €2,000 by itself.
The unnamed fan also reportedly boasts a copy of almost every Magic: The Gathering card produced for all of the game's base sets, aside from Alpha, 1994's third-edition Revised, second expansion Antiquities and third expansion Legends. The library includes an almost-complete set of Antiquities, with seven copies of rare land card Mishra's Workshop - which typically sells for north of $3,000.
This latest valuation follows an ongoing boom in trading card values for the likes of Magic: The Gathering and Pokémon, with MTG's Power Nine seeing a record-breaking year as they appear more frequently at auction and sell for more moeny than ever.