Magic: The Gathering Arena is launching on mobile "soon"
First gameplay shown ahead of release later this year.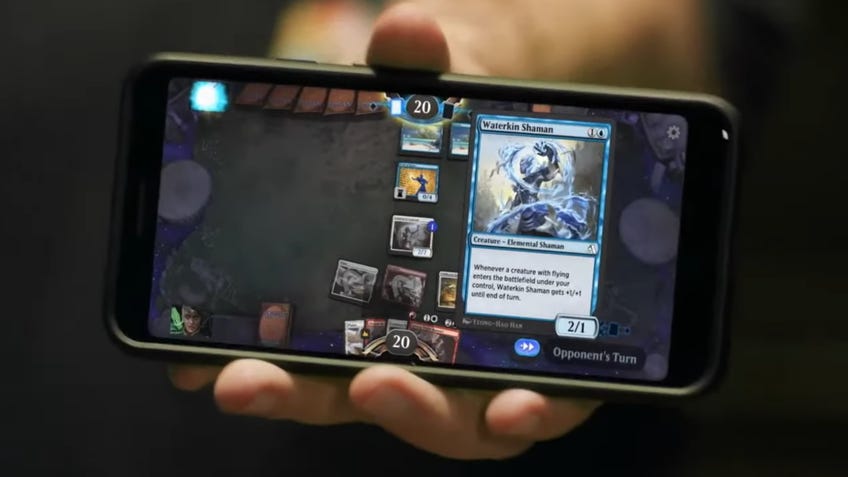 Magic: The Gathering Arena's much-anticipated mobile app is arriving "soon", Wizards of the Coast has teased.
MTG Arena launched on PC last autumn after nearly two years in beta, and was followed by a Mac release earlier this year. While a mobile version of the free-to-download game has previously been confirmed to be in development, its release date has remained a mystery, with Wizards reaffirming in April that it was aiming at a launch in 2020.
After several months without any further updates, MTG Arena mobile made a surprise reappearance at the end of Magic: The Gathering's recent Announcement Day stream, with co-host Sean 'Day9' Plott announcing that the app was "coming soon" while playing it on a mobile phone. At one point, Plott turns the phone to show off the first snippet of gameplay, revealing it to be near-identical in appearance to the PC version.
A Wizards of the Coast representative subsequently told Dicebreaker sibling site Eurogamer that the app is still on course to release by the end of 2020, but no further details - including whether it will be available on both iOS and Android - were provided.
Wizards of the Coast previously confirmed that the app will feature cross-platform support between mobile and PC, with players able to access the same library of cards, custom decks and game formats regardless of the device they use. Last month, MTG Arena received its first exclusive set, a remastered version of tabletop expansion Amonkhet.
If you're looking to get started with MTG Arena on PC ahead of its mobile release, head on over to our beginner's guide to find out more about how to start your card collection, earn the app's in-game currency and which formats to play first.