Magic: The Gathering is getting more Lord of the Rings cards that form gorgeous scenes and give its characters the rock-star treatment
Four new scene boxes on the way, plus Special Edition Collector Boosters with '60s music poster-inspired art.
Hot on the heels of this summer's Tales of Middle-earth set, Magic: The Gathering is returning to the world of Middle-earth with a new set of Lord of the Rings cards that will include both brand new multi-card scenes around some of its most iconic characters and a fresh artwork variant in special booster packs.
As revealed by IGN, the next wave of Lord of the Rings MTG cards will include 24 new cards spread across four scene boxes. Like the scene cards released as part of Tales of Middle-earth, these borderless cards can be arranged to form larger illustrations inspired by events in Tolkien's trilogy of fantasy novels.
Each set of six connected cards in the new scene boxes will focus more closely on specific characters from the books, depicting the Witch-king atop his flying fell beast Aragorn fighting during The Two Towers' climactic battle at Helm's Deep, elf queen Galadriel displaying the might of her Elven Ring of Power and Gandalf in Pelennor Fields during the battle for Minas Tirith - a panoramic view of which previously served as one of the largest scenes in the original Tales of Middle-earth set.
Each box will include a new card for their titular character, joined by five cards that align with the legendary creatures' colour identity and gameplay mechanics. Like previous scene boxes, the sets will also include artwork-only cards and a stand to display the assembled image. Three set boosters for Tales of Middle-earth will be packed in alongside the scene cards.
In addition to the scene boxes, a series of new Special Edition Collector boosters will have the chance to contain artwork variants of 20 cards from the original Tales of Middle-earth set inspired by '60s and '70s rock music posters and Barbara Remington's influential artwork for the Lord of the Rings paperbacks. The Special Edition Collector Boosters will also contain a handful of cards with a new foil treatment. A similar rock-poster treatment was applied to five sorcery cards released via a Secret Lair drop back in 2021.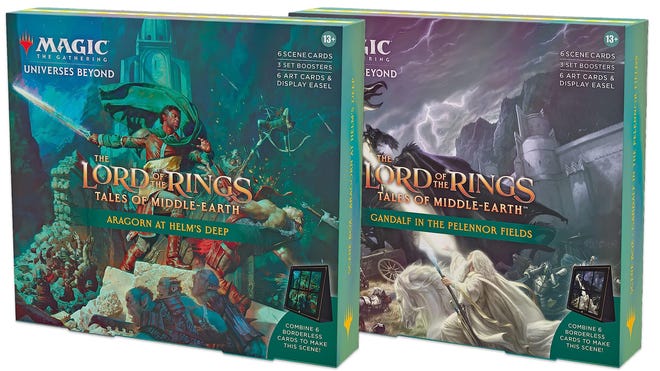 As well as the artwork variants, serialised versions of the poster cards numbered up to 100 have the chance to appear, following the rare one-of-one One Ring card released as part of the original set - and later purchased by Post Malone for $2 million.
Magic: The Gathering's new scene boxes and Special Edition Collector Boosters containing the new Lord of the Rings cards will be released on November 3rd.