Magic: The Gathering is reportedly getting a Warhammer 40,000 crossover and Lord of the Rings expansion
Alongside wider restructure of Hasbro to capitalise on success of D&D.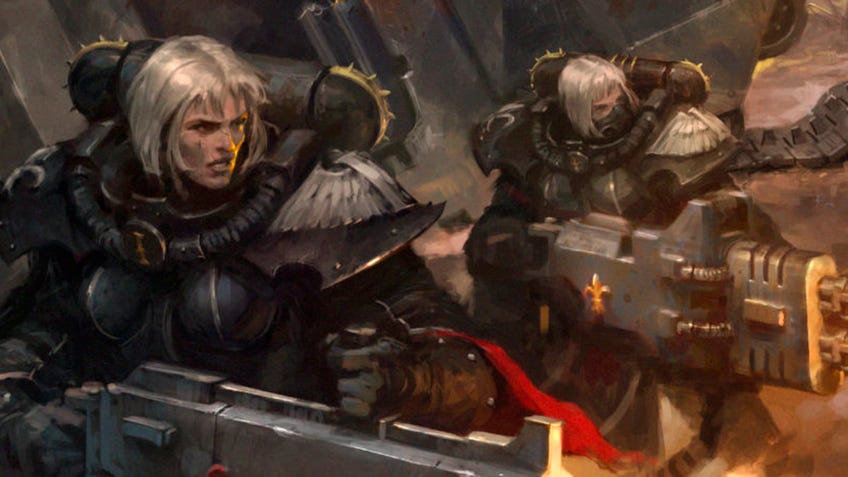 Trading card game Magic: The Gathering is reportedly set to crossover with the worlds of Warhammer 40,000 and The Lord of the Rings.
The Wall Street Journal reports that MTG maker Wizards of the Coast is due to announce a partnership with Warhammer creator Games Workshop to bring the grimdark miniatures game to its collectible card game. It is yet to be confirmed whether the Warhammer 40,000 crossover will comprise an entire set, or a select number of limited cards.
The announcement later today will apparently accompany the reveal of a full expansion set based in the world of The Lord of the Rings, as part of an "agreement" with Middle Earth Enterprises, the company that controls the rights to JRR Tolkien's fantasy trilogy and its prequel, The Hobbit.
If accurate, the two planned crossovers will follow Magic: The Gathering's previous collaboration with pop-culture icons such as Godzilla - which appeared in the card game's Ikoria: Lair of Behemoths set last spring - and The Walking Dead, which saw the release of several cards inspired by the horror comic book-turned-TV series as part of a limited-release Secret Lair drop.
Hasbro, which owns Wizards of the Coast, also plans to restructure the company to double-down on the success of Dungeons & Dragons and achieve similar success across the rest of the toy and games giant, the WSJ claims.
The new structure will split Hasbro in three divisions focused on consumer products - including toys such as Transformers and "classic board games" such as Monopoly - entertainment, encompassing the company's increasing move into the worlds of TV and film (including planned adaptations of D&D, MTG and Risk); and Wizards & Digital, which will include D&D and MTG, "focus[ing] on expanding the existing games, creating new ones and overseeing digital licensing for the entire business".
Hasbro previously announced that 2020 was the "best year ever" for Magic: The Gathering and Monopoly, with the company's gaming section earning $1.76 billion in total revenue last year. Wizards of the Coast previously said that 2019 was Dungeons & Dragons' most successful year in its almost 50-year history.
Dicebreaker contacted Wizards of the Coast for further information on the Warhammer 40,000 and Lord of the Rings crossovers but did not receive a response by time of publication.