Magic: The Gathering's next set Kaldheim introduces the game's first non-binary planeswalker
Viking-themed setting lands in early 2021.
Niko Aris, an athlete from the plane of Theros, is set to become Magic: The Gathering's first non-binary planeswalker.
Introduced in Kaldheim, the upcoming set for the collectible card game, Niko chooses to shrug-off a predetermined destiny of being a legendary athlete in Theros - the setting inspired by Greek mythology revisited in the Theros: Beyond Death set earlier this year - and discovers that they have the ability to walk between different planes. Eventually, they find themselves in the world of Kaldheim with a desire to dispense justice.
The different story elements for Niko were discussed in an interview between senior narrative designer Gerritt Turner and game designers Kate Allison and Chris Mooney. Mooney - who identifies as non-binary themselves - described the process behind Niko's creation.
"When we were developing Niko's origin, we wanted to tell a story that could express the shared experience of non-binary people without focusing on their gender identity," they said. "As a non-binary person, the story that resonated most strongly with me was one about questioning the accepted norms of your world."
First revealed earlier this year by publisher Wizards of the Coast during the 2020 Announcement Day Stream, Kaldheim will be heavily inspired by Viking history and Norse mythology. Besides Niko, the upcoming set will feature another new planeswalker - elvish warrior prince Tyvar Kell - alongside a returning fan-favourite in ghost assassin Kaya.
An interview between Turner, senior art director Cynthia Sheppard and principle concept artist Lake Hurwitz revealed various story and cultural details about Tyvar and the rest of the Kaldheim elves. "We borrowed traits from both Vikings and Norse gods for elvish inspiration," explained Sheppard. "All of Kaldheim love an over-the-top fight and celebrating their amazing feats."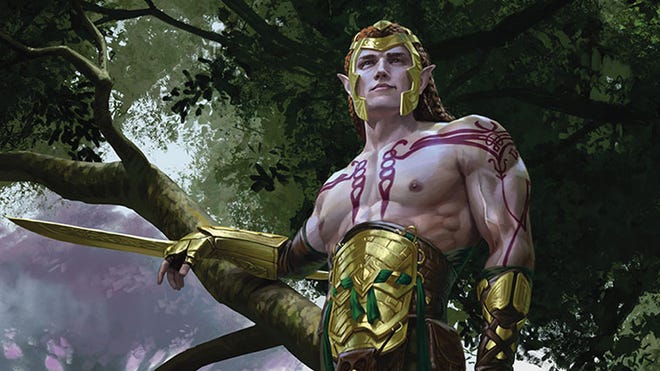 Wizards has also announced that the release of Kaldheim will be preceded by the Week of Metal, an event intended to showcase the upcoming set through collaborations with various heavy metal bands, who will apparently be showing their love of the collectible card game and previewing cards from Kaldheim. There is a playlist on Spotify called Kaldheim's Week of Metal, featuring bands such as Mastodon and Amon Amarth, which could provide a clue to which bands are involved.
2020 has been a busy year for Magic: The Gathering, with the release of several new sets - including Theros: Beyond Death, Unsanctioned, Ikoria: Lair of the Behemoths and Zendikar Rising - the Jumpstart format providing new players with a more accessible way to get into the game, multiple Secret Lair drops and a second Dungeons & Dragons 5E crossover sourcebook based on the card game, Mythic Odysseys of Theros.
Last week, MTG channel Tolarian Community College sold $140,00 worth of rare cards - including a Black Lotus - to raise money for two US-based charities. Brian Lewis donated half the money raised to Saving Our Sons and Sisters International, a charity that supports Black communities in Atlanta, and the other half to the Trans Women of Color Collective.
The Kaldheim set will be officially released on February 5th 2021, with the set being made available on MTG Arena - the digital version of Magic: The Gathering - on January 28th 2021.