Wingspan creator's new game Mariposas receives purple butterflies pack in memory of fan's late daughter
Publisher AEG donating to charity in Lexi Berry's name.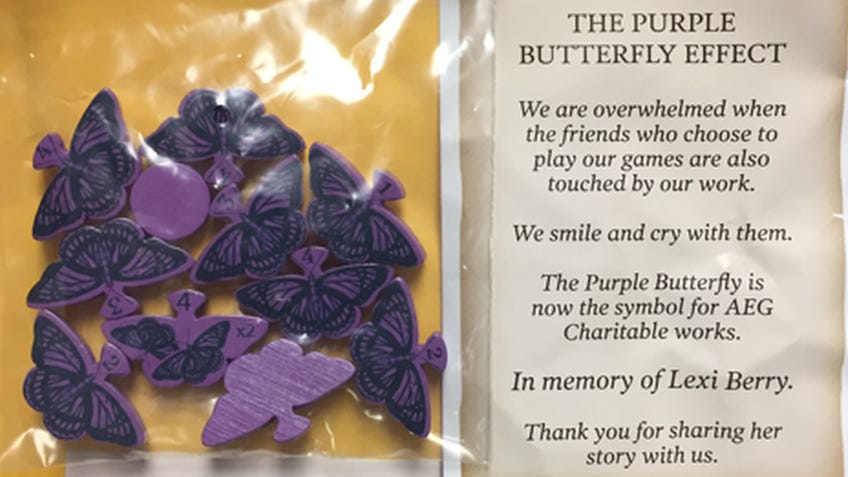 Mariposas, Wingspan designer Elizabeth Hargrave's newly-released board game about migrating butterflies, has received a promo pack in memory of a fan's late daughter.
The Purple Butterfly Effect promo pack includes a set of purple butterfly tokens to replace one player's pieces in the original box.
The pack was produced in memory of Lexi Berry, who passed away in 2018 aged just two years old. Lexi's parent, Twitter user @berryshan, said he contacted Mariposas publisher AEG and Hargrave several months ago ahead of the game's release to ask whether it included purple butterflies, used to memorialise his late daughter.
"A couple months later I was stunned to received a phone call from [AEG owner John Zinser] @johnzinser himself, letting me know he was touched by our story and was working to bring purple butterflies to Mariposas as a promo as well as donate to charity in her memory," he wrote.
1/4 Today I received a beautiful package from @alderac. Months ago, I asked them and @elizhargrave about purple butterflies in Mariposas and shared how much purple butterflies mean to us--they are how we memorialize my daughter who died at age 2 in 2018. pic.twitter.com/xP8uWHxZqT

— DS (@berryshan) September 11, 2020
The purple butterflies promo pack includes a note reading: "We are overwhelmed when the friends who choose to play our games are also touched by our work. We smile and cry with them. In memory of Lexi Berry. Thank you for sharing her story with us."
AEG added that a purple butterfly would now be the symbol for AEG's charitable works, including a portion of the sales from the promo pack as part of its monthly donation to charity.
Following Mariposas' worldwide release on August 28th, the first set of purple butterflies were sent to Lexi's family by AEG.
"I cannot describe how moved our family is by John and AEG's beautiful gesture in Lexi's honor," @berryshan tweeted. "We are honored for Lexi to be a part of Mariposas, and we hope that Lexi's butterflies spread throughout the world as a force of good."
The Purple Butterfly Effect promo pack for Mariposas is available from AEG's online store for $10.