An official Marvel tabletop roleplaying game is coming in 2023
Featuring Spider-Man, Captain America and more favourites.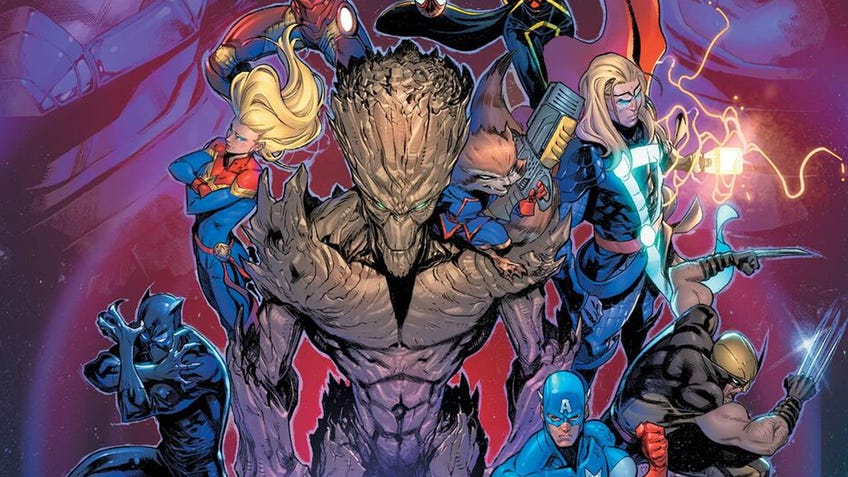 Marvel has announced that an official roleplaying game based on its universe of comic book characters will be arriving in 2023.
Called the Marvel Multiverse Role-Playing Game, the upcoming RPG will be initially released via a Playtest Rulebook that will provide an introduction to the game. The RPG will be based on the characters, worlds and stories found within the Marvel comics universe, with players able to become existing superheroes - such as Spider-Man, Captain America, Thor, Black Panther, Wolverine, Captain Marvel and "many more" - or otherwise create their very own characters.
These characters will then go up against a rogue's gallery of villains from the Marvel comics universe. Though Marvel have not confirmed who these antagonists could be, the front cover of the Marvel Multiverse Role-Playing Game seems to depict the iconic comic villains Galactus - a cosmic entity who must devour entire planets in order to survive - and Avengers' arch-nemesis Kang the Conqueror, which could hint at the two making an appearance within the RPG.
A new system called D616 will be used by the RPG, which - according to Marvel - will be "an accessible and easy-to-learn system for newcomers to tabletop RPGs". In the game, player characters will use Might, Agility, Resilience, Vigilance, Ego and Logic to perform various actions, with Marvel yet to confirm exactly how these attributes will work. Players who experience the upcoming Playtest Rulebook will be able to provide feedback which will help shape the game's full release in 2023.
The Marvel Multiverse Role-Playing Game was created by Matt Forbeck, a writer responsible for the Shotguns & Sorcery books - which were subsequently adapted into a fantasy roleplaying game - the Endless Quest series of adventure books, as well as numerous Blood Bowl and Marvel books. Forbeck has also written for several video games including Assassin's Creed: Origins, Ghost Recon: Wildlands, Rage 2 and the recently released Biomutant.
Previous roleplaying games based on the Marvel comics universe include the 1984 Marvel Super Heroes game and the Marvel Heroic Roleplaying game released in 2012, which contributor Rob Wieland described as being an RPG that "really helped to get players thinking like comic writers" in their recent feature on the title.
Players will be able to get their hands on the Playtest Rulebook for the Marvel Multiverse Role-Playing Game in Spring 2022, with a retail price yet to be confirmed.