Dungeons & Dragons Monopoly is on the way
How has this not happened already?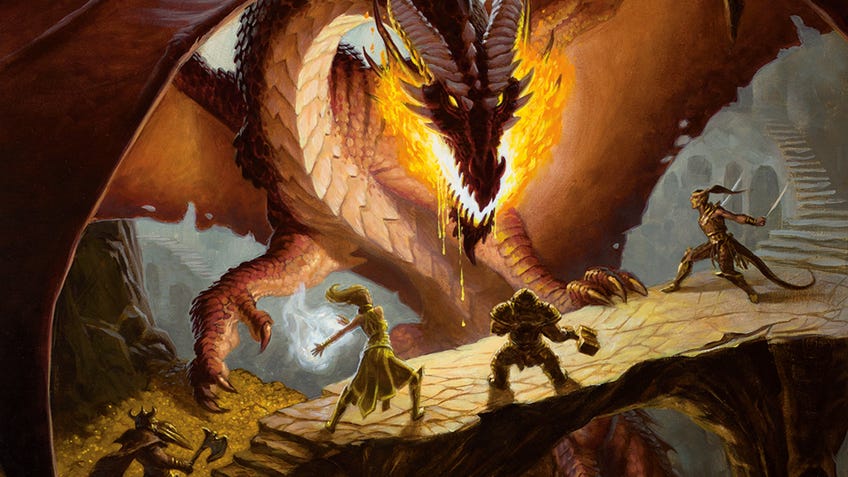 The biggest tabletop RPG in the world - Dungeons & Dragons - is finally colliding with the world's best-known board game, Monopoly, in an upcoming crossover.
Monopoly: Dungeons & Dragons is the latest Monopoly spin-off from publisher The Op - previously known as USAopoly. Despite both brands existing for many decades and being owned by board game giant Hasbro - the parent company of D&D and Magic: The Gathering label Wizards of the Coast - this will seemingly be the first time a branded D&D Monopoly set has been released.
Among The Op's many, many previous Monopoly releases are licensed editions based on TV shows such as Breaking Bad and Rick and Morty, films including The Goonies and Elf, hit anime shows My Hero Academia and Dragon Ball Z, popular video games Fallout and Five Nights at Freddy's, and even the grimdark universe of miniatures game Warhammer 40,000.
Last year, The Op also released a new Dungeons & Dragons edition of Clue - or Cluedo, for those of us outside the US - set in the city of Baldur's Gate. Players had to discover which adventurer had been killed and replaced by a devilish imposter, as well as where in the Forgotten Realms a stolen infernal puzzle box had been hidden. A map of Baldur's Gate - featured in last year's D&D 5E campaign Descent into Avernus - replaced the classic board game's mansion, with the players represented by metal weapon tokens based on the D&D classes. A previous Clue: Dungeons & Dragons game was released in 2001.
The Op confirmed to Dicebreaker that the Dungeons & Dragons edition of Monopoly is in the works, but said that a release date, price and further information - including any D&D-themed additions or changes to Monopoly's gameplay - are yet to be announced.