Breaking Bad Monopoly will let you play as Heisenberg's hat, won't let you sell drugs
Blue Sky thinking.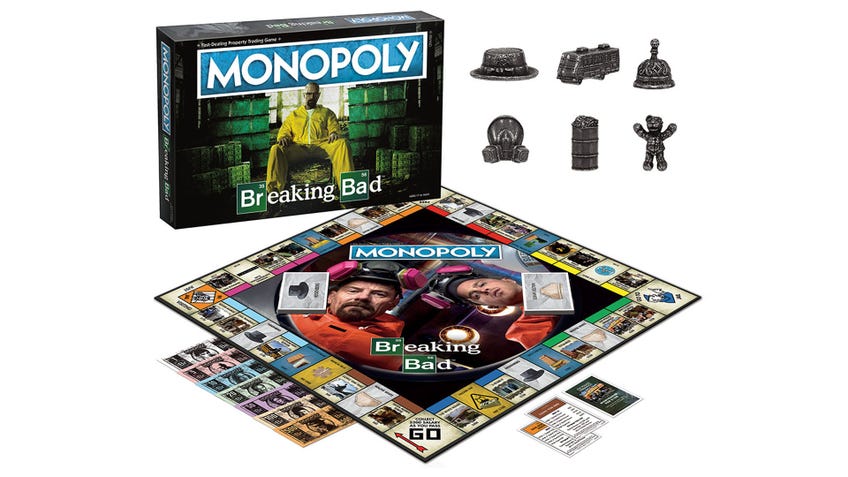 Seven years after Breaking Bad came to an end, the acclaimed TV show is getting its own Monopoly spin-off.
Monopoly: Breaking Bad is the latest reskin of the classic family board game based on a popular pop culture hit, following the likes of Monopoly editions based on video game Fortnite, miniatures game Warhammer 40,000 and Game of Thrones - the latter of which came with a tiny Iron Throne that played the fantasy TV show's theme music.
Despite Breaking Bad centring on the exploits of Walter White - also known as Heisenberg - as the chemistry teacher winds up producing and selling crystal meth, Monopoly: Breaking Bad will apparently avoid delving too deeply into the dark world of illegal drug trade depicted in the AMC series.
Instead, as in normal Monopoly, the players will make their way around the board, buying property and charging rent on locations that their opponents land on. In the franchise's latest board game release, classic Monopoly's houses are now 'tented houses', while hotels are replaced with 'superlabs'. Unlike more inventive Monopoly versions that introduced new variations on the roll-and-move gameplay - including the Fortnite and Monopoly Gamer editions - all of the board game's original rules appear to be unchanged in this particular spin-off.
If you expect to play as any one of Breaking Bad's iconic characters - from Walter White himself to Jesse Pinkman, Saul Goodman (of current spin-off Netflix series Better Call Saul) or Hank Schrader - there's another surprise in store. In place of Monopoly's traditional player tokens, such as the Scottie dog, top hat and recently added rubber ducky, Monopoly: Breaking Bad includes Heisenberg's hat, the RV, a gas mask, the pink teddy bear, Tio's bell and a money barrel.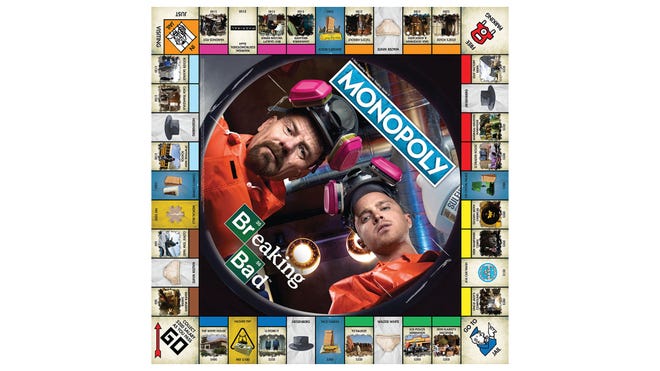 Other changes in the board game include the renaming of Community Chest cards to 'Heisenberg cards' and Chance cards to 'Walter White cards' (with a hat or underwear on, respectively), along with the game's paper money featuring the faces of characters from the show. To be clear, no information has been given on whether the cards could feature grittier elements - such as cooking and distributing crystal meth - from Breaking Bad, but there is no mention of the show's darker elements anywhere in the board game's description, in which it's simply outlined as a board game about trading property, rather than drugs.
Monopoly: Breaking Bad comes from The Op - formerly known as USAopoly - the publisher responsible for a number of licensed Monopoly spin-offs, from Zelda to The Simpsons. It is available now, costs $39.99 (£32) and - despite the apparent lack of explicit references to Breaking Bad's more mature themes - has a recommended age of 17 and up, if you were wondering whether it could replace the traditional board game for kids. (No.)