Boss Monster spin-off gets a new name, Overboss, and release next month
World-building game inspired by retro video games comes to retail.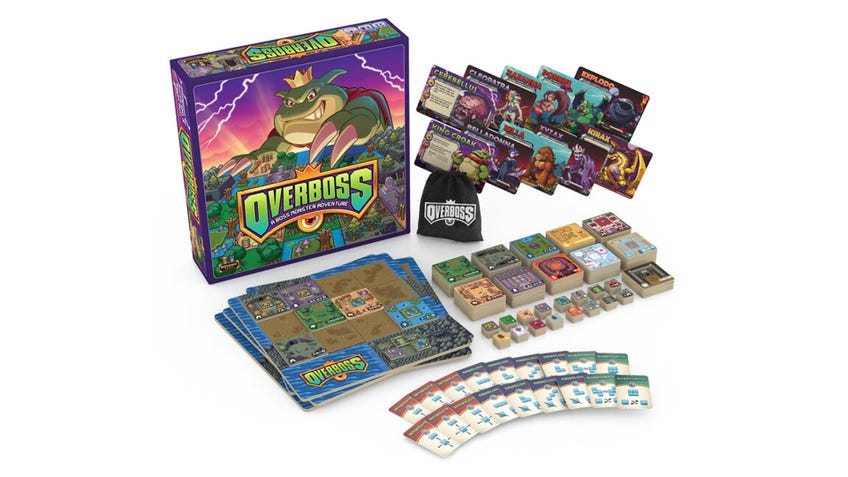 Boss Monster spin-off board game Overlord has been renamed to Overboss: A Boss Monster Adventure, a month before it's set to be released at retail.
Originally announced as Overlord last summer, Overboss sees players becoming monster masterminds intent on creating their own worlds filled with beasts, traps and other dangers designed to trip up meddlesome heroes. Whereas the Boss Monster games confined players to making just a single dungeon, Overboss challenges one to five players to use a variety of tiles to construct an entire overworld with which they can foil the plans of incoming adventurers.
Players have access to several different types of environmental tiles, as well as tokens for bosses or mini-bosses and certain magical tiles that provide endgame bonuses. Each tile appears to be inspired by classic retro video games such as The Legend of Zelda: A Link to the Past - depicting graveyards, hidden caves, swamps, forests and more - and can be grouped together to increase the player's point value. Players can also place monster tokens on certain tiles to gain additional points. Whichever player holds the most points by the end of the game is declared the winner.
Boss Monster sees two to four players attempting to lure various heroes into their lairs and eliminate them. Players build their dungeons using various room cards that cause different effects to occur when heroes enter and perish inside. Certain room cards can also provide beneficial bonuses outside of the arrival and defeat of heroes. However, players must be sure that they do not let heroes get too close to their boss character.
Overboss was co-designed by Aaron Mesburne and Kevin Russ, the creator of tile-laying family game Calico - which has players competing to attract the cuddliest cats - and Wild West-themed dice game Tumble Town.
Brotherwise Games is the studio behind Overboss and Boss Monster, as well as Unearth - a dice game about leading a group of diggers underground - and the Call to Adventure series, which features entries based on The Name of the Wind and Stormlight Archives book franchises.
Overboss was initially funded on Kickstarter last year - successfully raising $550,868 (£401,000) - with backers pledging $40 (£29) for a copy of the core game. The upcoming game is being sold at a retail price of $44.95 (£32).