Download and play a free adventure for Overlight, the fantasy tabletop RPG from Kids on Bikes studio
Roleplay the rainbow.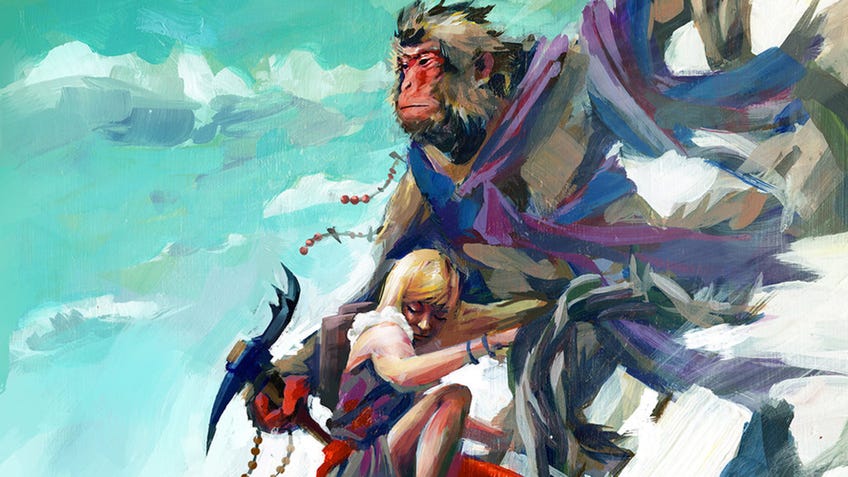 Bask in the Overlight with a free downloadable adventure module for the kaleidoscopic fantasy RPG from the creative team behind Kids on Bikes.
Overlight is a fantasy RPG set in a world where six continents - or shards - hang in the sky above an ocean and under the Overlight, a rainbow of colours that serves as both the sun and the moon. Players assume the role of Skyborn, people who are born with an innate sense of the world being wrong and the ability to access the Chroma - a spectrum of powers that stem from the colours of the Overlight.
The roleplaying game's psychedelic setting was inspired by the works of artists such as Roger Dean, who painted the album covers for sixties and seventies prog-rock bands such as Yes and Asia. Dean specialised in using bright colours to create bizarre and beautiful landscapes that were filled with unusual creatures and otherworldly vistas. These paintings were a heavy influence on Overlight, alongside fantasy authors such as JRR Tolkien and Ursula K Le Guin.
Overlight was created by Paul Alexander Butler - who previously worked on Lord of the Rings RPGs The One Ring and Adventures in Middle-earth - and first-time designer George Holland.
A free Overlight booklet including the game's basic rules, player character sheet, some pre-generated characters and a free introductory adventure module called Birthright of Khar-Ulan was originally released for Free RPG Day in 2018. The booklet has now been made widely available as a digital download by publisher Renegade Game Studios.
In Birthright of Khar-Ulan, players find themselves on the shard of Pyre, a harsh continent filled with magma and occupied by the intimidating Pyroi people, hired by an envoy to protect them after being framed for a crime they did not commit. The scenario is designed as an introduction to the main Overlight RPG, and leads into an adventure included within the game's full rulebook.
Renegade recently announced an upcoming tabletop RPG spin-off from Kids on Bikes called Kids on Brooms, in which players assume the role of witches and wizards at a Hogwarts-like school of magic.
The Birthright of Khar-Ulan adventure, Overlight digital booklet and character sheets can be downloaded now from Renegade Game Studios' website.