Pathfinder and Starfinder publisher Paizo discounts digital RPGs for Black Friday
A good opportunity to try both the fantasy and science-fiction settings.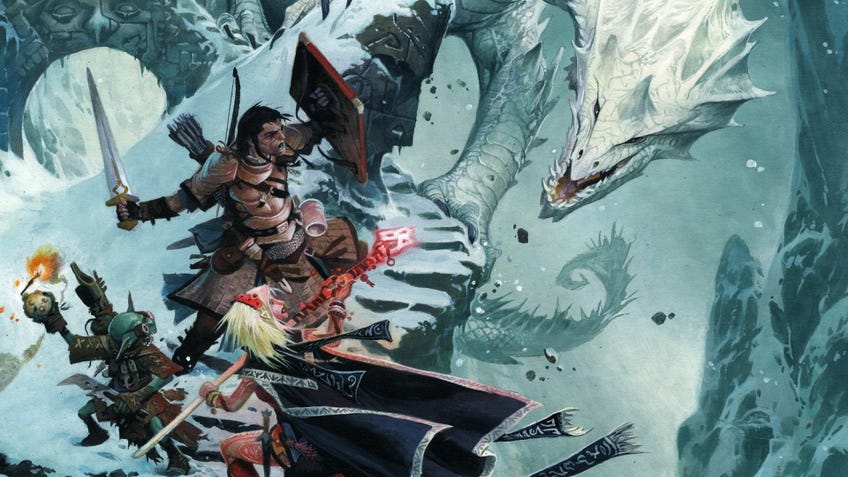 Tabletop RPG publisher Paizo has an ongoing Black Friday sale on all of its first-party digital products, primarily Pathfinder 2E and Starfinder.
Players looking for a deal can pick up the popular fantasy RPG Pathfinder's second-edition core rulebook, Advanced Player's Guide and Bestiary at a reduced price. All of the core books for sci-fi universe Starfinder are on sale - they include deep dives into several alien cultures, weaponry and far-flung locations for parties to explore.
The weekend deal extends to adventures and supplements for both game systems. Paizo offers dedicated Adventure Paths that take new characters through level-balanced modules in order to tell broad but consistent stories. It also sells standalone adventures at different character levels that GMs can easily stitch into ongoing campaigns.
Anyone interested in trying Paizo's main games for the first time can purchase PDFs of the beginner's box for Pathfinder and Starfinder for $11.24 (£8.43) and $7.49 (£5.62), respectively. While they don't include the maps, dice and other accessories packaged in the physical version, they do provide the Hero's Handbook for players, the Gamemastery Guide, an introductory adventure and several premade character sheets.
Paizo's Black Friday digital sale runs until Monday, November 30th and should offer immediate downloads. If you're interested in perusing further discounts and deals check out our roundup page for more Black Friday board game deals.