Pathfinder sourcebook Humble Bundle unleashes demons and dragons from $5 for a good cause
Pay what you want for classic creatures and fearsome foes.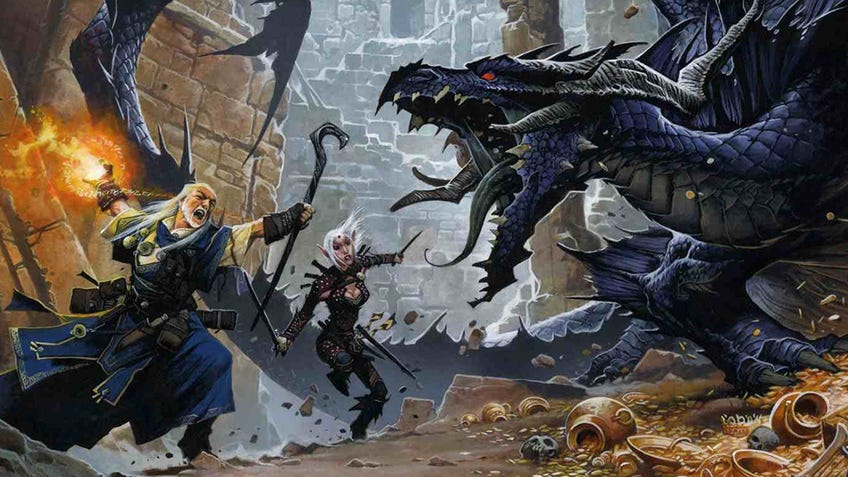 Snag a host of Pathfinder 1E sourcebooks and donate to Comic Books for Kids by purchasing the Pathfinder Monster Lore Humble RPG Book Bundle.
Paizo is currently offering dozens of monster and creature compendiums for the first edition of the fantasy RPG via a book package hosted on Humble Bundle. Purchasers can split their payment between the publisher and Comic Books for Kids, a non-profit charity organisation that delivers age-appropriate comics and graphic novels, along with related toys, to over 160 hospitals and cancer centres.
Buying in at $5 (£3.76) unlocks DRM-free PDFs for several undead- and demon-themed handbooks, such as Hell Unleashed and the Undead Slayer's Handbook. The ebooks at this level will provide DMs and players plenty of options for facing off against new foes and creating characters with new gear, traits and backgrounds to aid in their struggle for survival.
The $10 (£7.52) level unlocks books focusing on more classic fantasy beasties - dragons, giants, owlbears and anything that crops up in your mind when you imagine dungeon-delving around the table. Mythical Monsters Revisited introduces creatures from real-world myths to Pathfinder 1E campaigns, allowing parties to answer a Sphynx's riddles or grapple with a kraken in the open sea. Like the previous level, handbooks that focus on monster ecology and player options for handling them are both included.
The last tier, which costs $18 (£13.53) to unlock, gets weird by providing a hodgepodge of ebooks showcasing deep sea monsters, fey inhabitants, cosmic denizens and beyond. The Misfit Monsters Redeemed takes a design pass at the most ridiculed tabletop foes, while a few supplements discuss how a player might recruit and work alongside their world's monstrous population.
Humble Bundle regularly sells tabletop RPG books as part of fundraising efforts. The company recently extended the window to grab core books and supplements for both Cyberpunk 2020 and Cyberpunk Red.
The Pathfinder Monster Lore Humble RPG Book Bundle will run until January 4th of next year.