Cyberpunk Red's starter set and Cyberpunk 2020 are just £6 in the latest RPG Humble Bundle
Along with a lot of sourcebooks for the seminal tabletop game.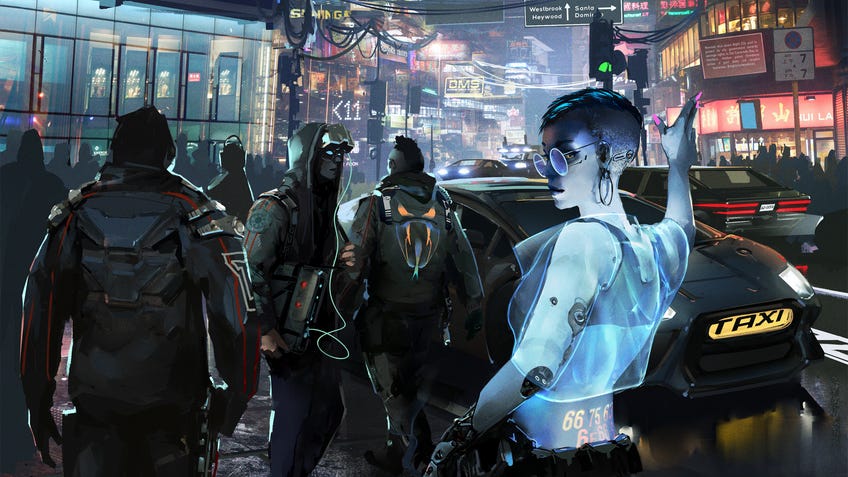 Pick up the starter set for Cyberpunk Red - the latest edition of the tabletop RPG that inspired this year's blockbuster video game Cyberpunk 2077 - as well as the core rulebook for the hugely influential Cyberpunk 2020 and a complete library of sourcebooks from just £6 in the latest Humble Bundle deal.
The Cyberpunk Humble Bundle includes a digital copy of the Jumpstart Kit for Cyberpunk Red. Released last summer, the beginner-friendly set includes pre-made characters and basic rules for how to play Cyberpunk Red, providing an intro for newcomers before they pick up the full rulebook released by publisher R. Talsorian this month.
The Cyberpunk Red Jumpstart Kit is available as part of the second tier of the Humble Bundle, alongside the core rulebook for Cyberpunk 2020, the seminal second edition of designer Mike Pondsmith's futuristic RPG released in the nineties. Paying £6.15 or more will nab you both the Red set and 2020 book, along with a number of sourcebooks and accessories - such as a GM 'data' screen and map of Night City - as part of the bundle.
That pledge also includes the lower tier of the bundle, available from 76p, which features seven sourcebooks for Cyberpunk 2020 including the Blackhand's Guide to weaponry in the setting and Maximum Metal, a book filled with destructive vehicles, power armour and other such mechanical machinery.
Unlocked at £11.54 and above, the bundle's top tier adds even more sourcebooks to the pile. The 13 additional books include the Rough Guide To The U.K. - showing the dystopian nightmare of Britain in 2020 (too real) - and Land of the Free and Home of the Brave, two books that cover the major cities of the United States. Pacific Rim, meanwhile, travels 19 countries from New Zealand and Hawaii to China and Japan. Players can also take things beyond Earth with the inclusion of the Deep Space sourcebook.
The Cyberpunk Humble Bundle is available until December 16th, with a portion of proceeds - adjustable by the buyer, as with all Humble Bundles - going toward Ablegamers, a charity that champions inclusion and representation of disability and accessibility in relation to video games.