Could another Pokémon card ever dethrone the Pikachu Illustrator as the TCG's Holy Grail? Collectors weigh in
After selling for a record $5.2m, Pokémon's most valuable card has only reinforced its legendary status.
Pikachu Illustrator: it's a legend among Pokémon card fans, long considered the TCG's Holy Grail. Just a few dozen copies are known to exist at all, with only a single copy ever rated at a perfect 'Gem Mint' 10 - an effectively flawless condition - by grading specialist PSA.
That singular PSA 10 Illustrator sold for a record $5.275 million in July 2021, finding its way into the hands of controversial YouTuber Logan Paul - who then wore it around his neck at WWE wrestling event WrestleMania 38 in an ostentatious display. Even before Paul's record-breaking buy, the Pikachu Illustrator was rated as Pokémon's most valuable card of all time, fetching hundreds of thousands of dollars in lower-quality conditions. (Paul himself traded a PSA 9 copy of the Illustrator, said to be worth around $1.275m, along with $4m in cash, for the PSA 10.)
While Pikachu Illustrator is Pokémon's most expensive card by some distance, it's not the rarest Pokémon card. In fact, there are a number of cards where only a handful of copies were ever printed, making them considerably more hard-to-find than the Illustrator.
The Illustrator isn't as elusive as it has been in the past.
Pokémon's ongoing collecting boom - spurred by the headline-making purchases of Paul and other celebrities, such as rapper Logic's Shadowless Charizard in 2020 - has made that even more true, with the previously Illustrator appearing more often under the hammer in recent years.
"The Illustrator is quite weird," observes Sam Pantellerisco of Liverpudlian Pokémon seller Chibi Collectables, which trades in high-value cards via its eBay store. "It's not as elusive as it has been in the past. There's a lot of copies that come up now; I was at Card Party and I've seen four Illustrators at that one event."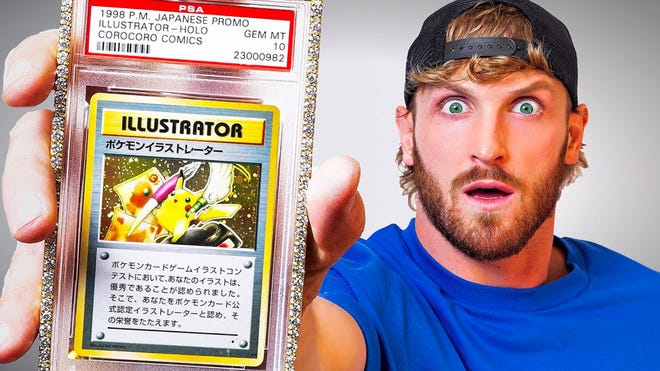 The reason for Illustrator's ongoing popularity - and eclipsing of other, rarer cards - is due to its status. The card was created as a competition prize for an illustration contest held in Japanese magazine CoroCoro Comic during 1997 and 1998. 39 copies were given to winners, with a further two copies surfacing in the collection of Pokémon TCG co-creator Yuichi Konno over two decades later in 2020 - meaning just 41 copies are known to exist.
The card's text translates from Japanese as: "We certify that your illustration is an excellent entry in the Pokémon Card Game Illust. Contest. Therefore, we state that you are an Officially Authorized Pokémon Card Illustrator and admire your skill."
Pikachu Illustrator and Shadowless Charizard have something that few cards that don't have - the iconic status - and it's very hard to take out a card like this.
Aside from only being available to winners of the contest, the card is singular in being the only Pokémon card to say "Illustrator" instead of "Trainer" in the box at the top of the card. A unique pen icon in its bottom-right corner references its origin as a promo for the illustration competition. On top of all that, the card features original artwork of Pikachu by the beloved Pokémon's original designer, Atsuko Nishida.
"The thing with the Illustrator is it's not the rarest card," acknowledges influential Pokémon TCG trader Nasser, better known as Mister Fuji, who helped to broker Paul's purchase of the PSA 10 Illustrator. "But today [it's about] the status of iconic cards, such as the [Shadowless] Charizard. If we were to compare with the Charizard, Charizard is not even comparable, because it's a set card, there have been plentiful printed. Still, the card is six figures as well, and you have almost 30 copies in PSA 10. Whereas the Illustrator, you have just only one.
"So even if you compare mathematically, the Illustrator should be even more than that, but that's not how it works. And these two cards have something that few cards that don't have - the iconic status - and it's very hard to take out a card like this."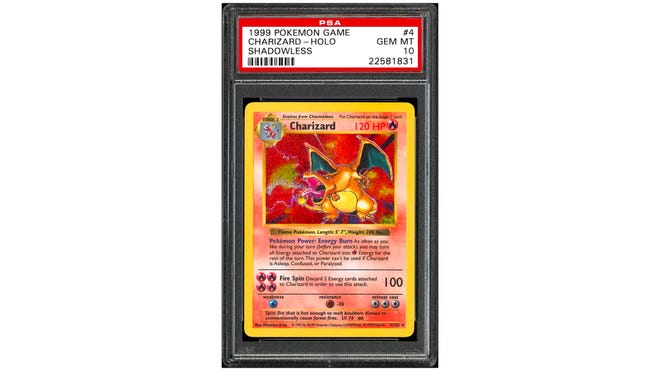 So, with Pikachu Illustrator having set a new high bar for the value of Pokémon cards - and achieving increasingly record sums despite not being as hard to find as other cards - could any card ever surpass the TCG's Holy Grail? Its collectors aren't so sure.
"I don't think any card's ever going to sell for more than the PSA 10 Illustrator that Logan Paul paid for," says Pantellerisco. "I don't think anything's gonna get to that level. Something would crazily have to happen. Like the Pikachu Snap card, which is rarer than the Illustrator, which is harder to find - there could only be one in the world - it sold for a quarter of a million."
I don't think anything's gonna get to the level of the PSA 10 Illustrator. Something would crazily have to happen.
Mister Fuji was also involved in the sale of that Pikachu Snap card, a promo card created for one of the winners of an in-game photography contest held using Nintendo 64 video game Pokémon Snap. The card was sold for $270,000 to prominent collector Dubsy, completing the first known full set of 10 promo cards released across two Pokémon Snap competitions in 1999.
"We were chasing the Pika Snap for almost 10 years now and we just got it recently," Fuji says of the effort required to track down the card.
Though other cards may not outdo the Illustrator in terms of value, Pokémon's widespread popularity and almost 30-year history means that it may not be a card itself that becomes the game's next most sought-after treasure.
"My Holy Grail will be the first-ever sketches for the cards," Mister Fuji reveals. "Because what they did back then, they did black-and-white sketches. And then they digitalised them and coloured them on computer - even in the late nineties, which is crazy when you think of it. And so the first-ever artwork or art related to TCG will be, for most of the high-end collectors, the Holy Grail.
"We kind of speculate among us. And we say that maybe that person had the original artwork, as we call them. But it has never been 100% confirmed."
Pantellerisco agrees that concept material created by The Pokémon Company and the card game's first English-language publisher, Magic: The Gathering maker Wizards of the Coast, could have the chance to spark a new treasure hunt if it appeared. At the same time, he remains realistic about the likelihood of rumoured rarities - such as a fabled version of Pikachu evolution Raichu marked with a 'PRERELEASE' stamp due to a production error in 1999 - even existing in the first place.
"I think a lot of stuff has been found or, if it is real, it's already coming out into the open," Pantellerisco says. "I feel like the Raichu Prerelease, it's a bit of a myth. I've heard people say they've seen one, [other] people say they haven't, it doesn't exist, whatever. The early-day, WOTC stuff, a lot of things were getting done and then thrown out, with people keeping bits and bobs. And I've heard some crazy stories about people keeping stuff that was meant to be burned and destroyed. And it's kind of one of them things where, maybe, eventually.
"The coolest things I've seen are the Japanese prototype cards. They're a bit more, again, niche. And they're supposedly the original cards, before anything else come out."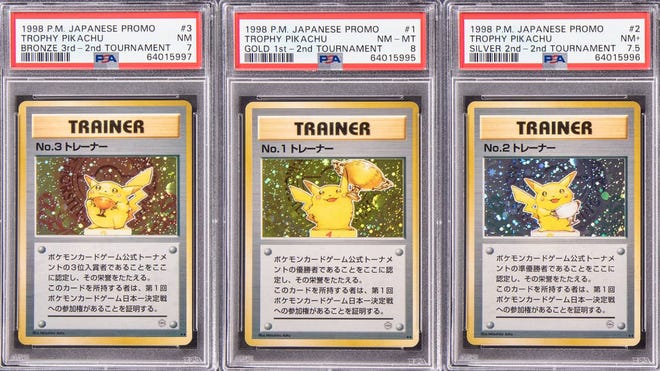 Until then, some Pokémon cards are seeing their status rise, even in the shadow of the Illustrator. Among the hottest cards currently trading hands are a series of trophy cards issued at Pokémon card game's earliest tournaments in 1997 and 1998. With just four copies of each card given to first, second and third-place competitors - and featuring Pikachu holding a trophy of the respective gold, silver or bronze - the trophy cards combine both rarity and status. A PSA 8 copy of the Bronze Pikachu No. 3 Trainer Trophy from Pokémon's first-ever tournament sold earlier this year for $300,000.
"For me, the main competitors who at least reached this level will be the Pika trophies from 1997," Fuji says. "They were released even before the Illustrator. These are the most, most, most sought-after cards for any high-end collector. Today, they go for six figures. We have been chasing the Pika 1997 First Place for years for one of our clients. We still haven't found it. Just to let you know how crazy rare that is."
Even so, it's clear that it will take something truly special to overtake Pikachu Illustrator as the most iconic and valuable Pokémon card of all time - and, even as Pokémon's star continues to shine bright, collectors such as Pantellerisco and Mister Fuji remain split on whether that will happen.
"I don't see a card ever selling for that much. Not currently," Pantellerisco says. "Even complete sets of some trophy cards wouldn't go for that much. I think that's kind of an anomaly. And I don't think we'd see it happening ever again. Not for a long time anyway."
"Never say never," says Fuji.