Rare Pikachu card from Pokémon TCG's first-ever 1997 tournament fetches $300,000 at auction
Just four copies of the Bronze Pikachu No. 3 Trainer Trophy card were handed out to runners-up in 1997 competition.
A rare Pokémon card, one of just four given to runners-up in the TCG's first-ever tournament, has sold for $300,000.
The Bronze Pikachu No. 3 Trainer Trophy card was awarded to the four players who placed third in the First Official Pocket Monsters Tournament, held in June 1997 in Chiba, Japan.
The trainers were the bronze winners in each of the competition's four contests, which also granted them preferential entry to the Lizardon Mega Battle Tournament - the event hosted in the Makuhari Messe Event Hall the following spring, which is now considered as being the first official National Championships held for the Pokémon TCG.
The particular card sold on April 21st via auction house Heritage was graded in 'Near Mint' condition - an 8 on specialist PSA's ten-point scale. All four copies of the card have been graded at the same condition.
Bronze Pikachu No. 3 Trainer Trophy features an illustration by prolific Pokémon artist Mitsuhiro Arita of the electric mouse grasping a trophy on a bronze background. Arita also illustrated the first- and second-place trophy cards awarded at the tournament.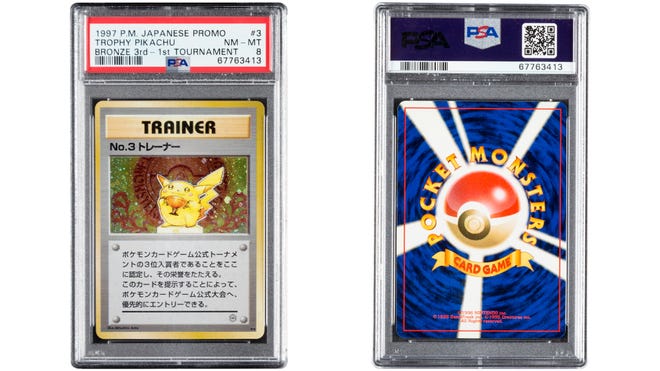 "The historical importance of this card had us confident it would do well, but the result exceeded everyone's expectations," said Jesus Garcia, Heritage's TCG consignment director. "This card was not in the booster boxes that were offered at the time. It only was available to trainers who finished third at the First Official Pocket Monsters Tournament in Chiba, Japan, in 1997.
"It is an extraordinarily rare card, [which] now stands as a centrepiece in the winning bidder's collection."
The holographic card sold for $300,000 after over 50 bids, putting it among the most expensive Pokémon cards ever sold at public auction - but still a few million dollars short of the record-breaking Pikachu Illustrator bought privately for $5.275m in the summer of 2021.