One of Pokémon's rarest modern-day cards could only be won by rock-paper-scissors, and it just sold for a record amount
Pokémon collectors' sought-after "waifu" Lillie fetches over $100,000 at auction.
A Pokémon card that could only be obtained by winning a game of rock-paper-scissors against some of the TCG's top players has sold for a record amount at auction - helped by a recent controversial trend.
The full-art Lillie card was offered as a promo card during the Extra Battle Day event held in Japan during October and November 2019.
To be in with a shot of winning the card, players were first ranked based on their performance across a number of matches, needing not only to win matches, but also to win with as great a difference between their prize cards and those of their opponents - which are lost whenever a Pokémon is defeated, with six spelling a total loss. Based on their performance over three games and head-to-head records, the players were then ranked.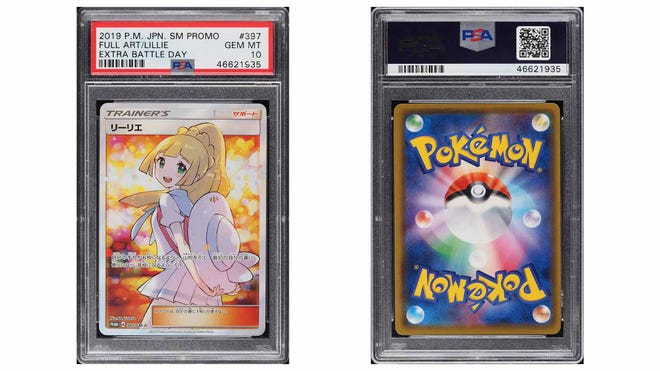 But skill alone wouldn't get you the promo card. The Extra Battle Day event culminated in matches of rock-paper-scissors, with the winner taking home a booster pack of rare cards. Each pack included one of three full-art cards, with a chance - rather than a guarantee - to find the full-art Lillie illustrated by Naoki Saito. Lillie is claimed to be the rarest of the three, according to auction house PWCC.
PWCC notes that the combination of tournament performance and luck factors involved in obtaining Lillie - described as being the most sought-after of the Battle Day promos - makes the card one of the rarest Pokémon cards of recent years. The Extra Battle Day event was planned to be repeated in early 2020, before being cancelled due to the COVID-19 pandemic, leading to an even higher rarity.
A copy of the Lillie card rated at a Gem Mint 10 condition by grading specialist PSA sold on June 27th for a record $108,000, more than quadrupling the $26,000 paid for another PSA 10 copy of the card in November 2022.
PWCC suggests that this leap in price could be down to what's been dubbed the "Waifu Tax", a recent trend of problematic origin (as explained by Kotaku) that has seen Pokémon cards featuring female characters drastically increase in value. "Waifu" is a slang term adopted from a certain subset of anime fans and online forum users who use the term to refer to characters they find attractive or desirable.
Like many of the characters in the kid-centric franchise, Lillie is a child. According to Pokémon wiki Bulbapedia, Lillie is described in video games Pokémon Sun and Moon as being roughly the same age of the main character, making her around 11 years old.