One-of-a-kind Pokémon card featuring a real-life player has been seen for the first time in over 20 years
Toshiyuki Yamaguchi No. 2 Trainer card awarded to runner-up in 2000 World Summer Challenge Secret Super Battle-Best In Japan tournament.
A one-of-a-kind Pokémon card has been publicly seen for the very first time, more than 20 years after it was made.
The Toshiyuki Yamaguchi No. 2 Trainer card was one of three cards awarded to the first, second and third-placing players in Secret Super Battle-Best In Japan, a tournament held in Tokyo's Pokemon Center in August 2000 as the finale of regional competitions held under the banner of the World Summer Challenge.
Each of the cards given to the No. 1, 2 and 3 trainers featured a picture of the respective top-placing player; in the case of the No. 2 card, it was runner-up Toshiyuki Yamaguchi. Unusually for a Pokémon card, the card features a real-life photograph of Yamaguchi rather than an illustration, joined by Pokémon including Pikachu, Chansey, Growlithe and Dudou.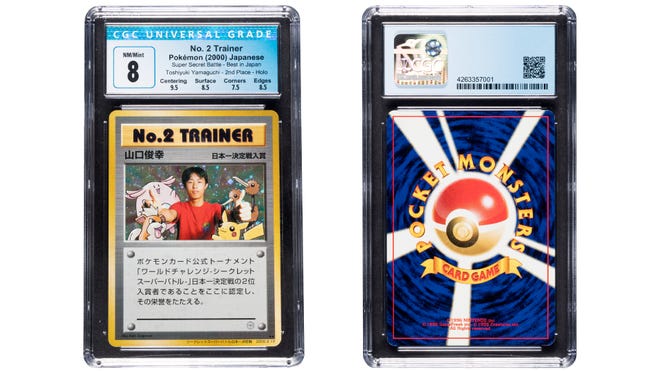 Like the other two cards awarded to the No. 1 and 3 trainers, the Toshiyuki Yamaguchi No. 2 Trainer card is the only copy of the promo card in existence - a literal one-of-one - making it one of the rarest Pokémon cards of all time.
Heritage Auctions - which listed the card for auction from July 7th with a starting bid of $85,000 - claims that the card was little-known among even dedicated Pokémon collectors, with no public images of the card appearing until now.
"The word rare is often used for cards with low-print runs, but here we have a genuine 1/1 card," said the auction house's TCG consignment director Jesus Garcia. "Before we posted the card's picture on our website, you couldn't even find a picture of the card online! The story of this card has been shrouded in mystery, and we're proud to tell it."
The lone card up for sale has been graded at a Near-Mint/Mint 8 by specialist Certified Guaranty Company, with its corners (rated at a 7.5) detracting from the higher scores given to its surface, edges and centreing.
Heritage described the 1/1 card as the rarest 'holy grail' Pokémon card it has listed to date, placing it above the likes of the iconic shadowless Charizard from the Pokémon TCG's Base Set and even Pikachu Illustrator, the most valuable Pokémon card ever made. 41 copies of Pikachu Illustrator are known to exist, with the most expensive selling to YouTuber Logan Paul for over $5m in 2021.