The most valuable Pokémon card ever made is back under the hammer for a paltry $200,000 (for now)
Pikachu Illustrator promo card previously sold for a record $5m in 2021.
The most expensive Pokémon card of all time has reappeared at auction - this time for a mere $200,000 (and counting).
Pikachu Illustrator was originally awarded to winners of a drawing contest hosted in Japanese magazine CoroCoro Comic during 1997 and 1998. Just 39 copies of the promo card were produced, featuring an illustration by artist and Pikachu's original designer Atsuko Nishida.
The holographic card's text translates from Japanese as: "We certify that your illustration is an excellent entry in the Pokémon Card Game Illust Contest. Therefore, we state that you are an Officially Authorized Pokémon Card Illustrator and admire your skill."
A further two copies of the rare card were rediscovered in the summer of 2020 by Pokémon TCG rules designer Yuichi Konno, whose sale of the cards brought its total known population to 41.
As well as Pikachu Illustrator's extreme rarity, it is the only Pokémon card to be labelled as "Illustrator" in place of the standard "Trainer" text at the top of the card, with an accompanying pen icon in its bottom-right corner.
Pikachu Illustrator's rarity has led it to become the most valuable Pokémon card ever made, with a series of record-breaking sales over the last few years amidst the card collecting boom. A copy of the card graded at PSA 7 sold for $900,000 at auction in February 2022, following previous sales of better-condition cards for less money in the preceding years.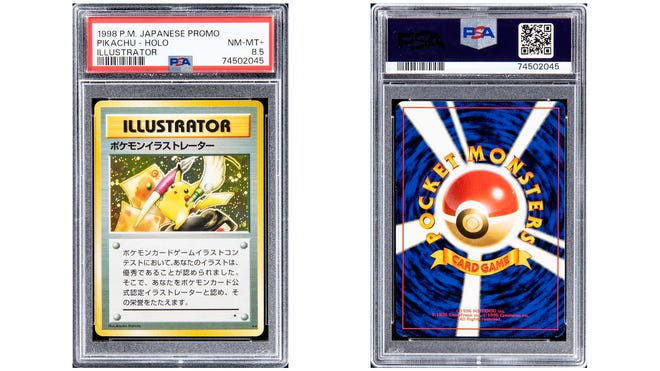 But even that sum pales in comparison to a private sale of Pikachu Illustrator's only PSA 10 copy to YouTuber Logan Paul in 2021 for a reported $5.275 million, setting the Guiness World Record for the most expensive Pokémon card sold privately. Fellow celebrity Pokémon fan and NFL linebacker, Blake Martinez, sold his own copy of the card - graded at a near-perfect Gem Mint 9.5 by CGC - last October for $672,000.
This latest copy of Pikachu Illustrator is graded at a Near Mint-Mint+ 8.5 by PSA, making it just one of two cards in this condition - with only nine more copies graded higher, according to auction house Goldin.
"The total number of Illustrator Pikachu cards now officially stands at 41, leading it to be the rarest Pokémon card in existence," Goldin added, suggesting that even the lowest-value copies currently sell for north of $100,000.
"It's still unclear if there are more out there, but the likelihood steadily decreases as the years go by."
The Pikachu Illustrator currently under the hammer has a top bid of $220,000 at the time of writing. With the auction due to run until June 15th, expect that number to only go up.