Extremely rare Blastoise, one of two in existence, becomes most expensive Pokémon card sold at auction
After selling for $360,000.
An extremely rare Blastoise card has seemingly become the most expensive Pokémon card ever sold at auction, after going for $360,000 (£266,000) on January 14th.
According to Heritage Auctions, the Blastoise card was created by Wizards of the Coast, the original publisher behind the Pokémon TCG, as a presentation piece designed to convince Nintendo of Japan executives that the trading card game was worth being produced in English before its international debut in 1999.
The card is one of only two Blastoise presentation cards produced - the other was created for international use - with the location of the other card remaining a mystery.
Artwork for the card was created by Ken Sugimori, the art director and primary character designer for the Pokémon franchise. Three other cards with similar Blastoise artwork but different background art and Magic: The Gathering backs - the card recently auctioned has a blank back - have been discovered by members of the Magic: The Gathering community over the last few years.
Last October, a first-edition shadowless holographic Charizard - otherwise known as 'shiny Charizard' - one of the rarest Pokémon trading cards in existence, was purchased by former rapper Logic for $228,000 (£169,000). Up until the auction of the Blastoise card, the holographic Charizard was believed to be the most expensive Pokémon card ever bought through an auction, surpassing the $195,000 (£144,000) paid in 2019 for a copy of Pikachu Illustrator - listed by Guinness World Records as the most expensive Pokémon card sold at auction.
On the same day as the sale of the Blastoise card, a booster box of first-edition Pokémon cards was also sold through Heritage Auctions. The Base Set Booster Box contained 36 sealed booster packs - a total of 396 cards - featuring cards from the original 102 set, which included Charizard. The Booster Box was sold for $408,000 (£301,000) - considerably more than a similar set auctioned off for $360,000 (£266,000) last November.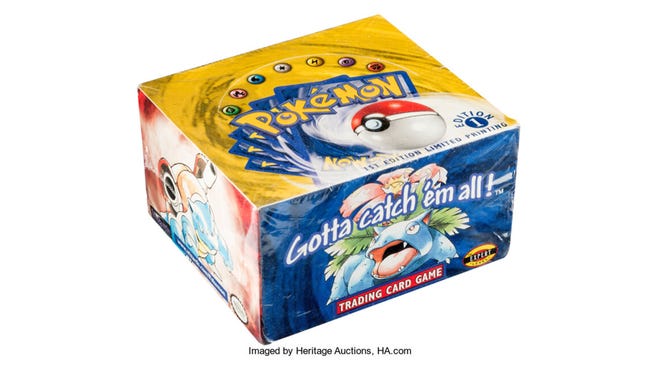 The Pokémon trading card game sees two players going head-to-head with their own deck of Pokémon, allies and items. Players take turns to play Pokémon cards into their line-up, with each player needing to have at least one card in play at any given time. Evolved Pokémon cards can be used as long as players have played their basic evolutions first. Players can choose to deal damage to their opponent's Pokémon using their own active card, with the goal of defeating six of the other player's Pokémon.
Anyone wishing to get their hands on the Blastoise card in question can still put in an offer of at least $468,000 on the Heritage Auctions lot.