Shiny Charizard card signed by Pokémon co-creator Ken Sugimori sells for $13,000
Only PSA-graded copy of 1997 card to feature signature of series co-creator and illustrator behind original 151 Pokémon.
A holographic Charizard Pokémon card signed by legendary artist and series co-creator Ken Sugimori has sold at auction for over $13,000.
The Dark Charizard card dates from the Pokémon TCG's Team Rocket expansion, which was released in 1997 in Japan, and was originally illustrated by Sugimori himself.
The card featured in the auction is the Japanese-language version of the card, and bears Sugimori's iconic signature - featuring the illustrator's name in both Japanese and English, along with a doodle of Pikachu's face.
Sugimori is best known for being the lead art director and character designer for the Pokémon series, working alongside Atsuko Nishida - the designer of Pikachu, Bulbasaur, Charmander, Squirtle and more - Mew creator Shigeki Morimoto and Eevee designer Motofumi Fujiwara on the series' first generation of 151 Pokémon.
Sugimori also co-founded Pokémon developer Game Freak with Satoshi Tajiri and Junichi Masuda, co-creating the Pokémon franchise in 1996 and going on to become the lead artist for its trading card game.
While a number of other rare Pokémon cards signed by Sugimori - including numerous Charizards, and the English version of Dark Charizard - have previously sold at auction, the signed Charizard card currently up for auction is reportedly the only copy of the Japanese Team Rocket Dark Charizard that has been graded by card condition specialist PSA. The grading company determined the card to be in a "Near Mint 7" condition on its ten-point scale.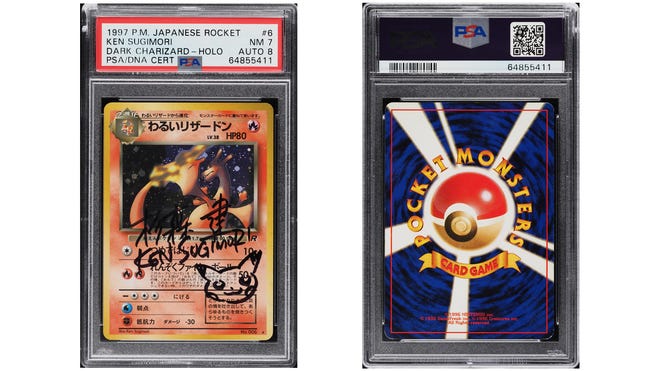 PSA estimates the value of a standard holographic Japanese Dark Charizard in NM 7 condition to be around $100, with almost 400 such cards graded to date.
Sugimori's signature, of course, adds a significant extra rarity and value to the card. The signed Dark Charizard sold for $13,200 via auction house PWCC on August 14th.