Pokémon card game booster box from 1999 sells for record-breaking £269,000
Sealed first-edition box breaks previous record by over $150,000.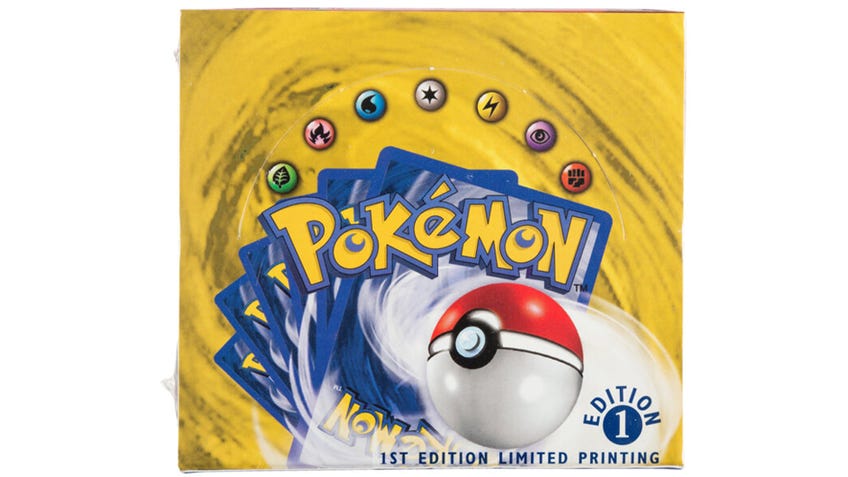 A sealed box of booster packs for the Pokémon trading card game has sold for a record sum at auction, setting the second new world record for the set in recent months.
The sealed first-edition booster box from 1999 went under the hammer as part of Heritage Auctions' Comics & Comic Art Auction last week, which described the box of 36 booster packs in its original shrinkwrap as "the pinnacle of Pokémon box collecting". According to the auction house, the box sets are especially valuable due to the low amount produced at the time and the even smaller number that remain sealed and in good condition over 20 years later.
The 11-card booster packs include random selections from the Pokémon TCG's first-edition English-language run of 102 cards, which includes shiny Charizard - by itself one of the rarest Pokémon cards in existence. The cards inside the unopened boosters are expected to be in perfect 'gem mint' condition.
The box sold for $360,000 (£269,430) on November 19th, breaking the previous world record of $198,000 (£175,732) paid for a similar sealed booster box in September by more than $150,000. Heritage said the previous record was broken by online bids before the auction fully opened.
Winning bidder Thomas Fish, the president of online trading card retailer Blowout Cards, also purchased an individual sealed pack of 'Pokémon demo game' cards - a two-player deck of 24 cards used to promote the Pokémon TCG around its original English-language release in 1998 - for $22,800 (£17,051).
In October, a 1999 first-edition holographic Charizard - albeit with the rare 'shadowless' printing error - sold for a record $220,574 (£169,000) to former rapper Logic, who also posted an unboxing video of an original Pokémon base set box claimed to be worth $23,000. The sum potentially makes the shiny Charizard the most expensive Pokémon card in the world, following last year's record sale of a rare Pikachu Illustrator card for $195,000.
October 10, 2020