World's most valuable Pokémon card, Pikachu Illustrator, appears at auction for almost half a million dollars
One of just 41 copies in existence.
One of the rarest Pokémon cards of all time, Pikachu Illustrator, has gone under the hammer for close to a cool half a million dollars.
Pikachu Illustrator is a legend among Pokémon collectors, and for good reason. The card was originally produced as a prize card for a series of contests run in Japanese magazine CoroCoro Comic between 1997 and 1998. 39 copies were given to competition winners, with another two copies of the rare card surfacing in the collection of Pokémon Trading Card Game co-creator Yuichi Konno in 2020, meaning that only 41 copies of the card are known to exist - with just over half that number having been professionally graded.
Pikachu Illustrator's rarity has helped the card to become the most valuable Pokémon card ever made, smashing a number of sales records over the years. A copy in near-perfect condition - graded at Mint 9 by PSA - sold for $195,000 in 2019, earning the card a Guiness World Record for the most expensive Pokémon card sold at auction.
That figure now looks like chump change compared to the card's sale in recent years, with a card graded at Near-Mint 7 selling for $375,000 in early 2021 and another NM7 copy fetching $900,000 a year later.
Even those impressive sums were blown out of the water by the reported private sale of a Pikachu Illustrator card in flawless Gem Mint 10 condition - claimed to be the only copy of the card confirmed to be in such a condition - to YouTuber Logan Paul in July 2021. Paul purchased the PSA 10 card in exchange for a Mint 9 copy of Pikachu Illustrator - claimed to be worth $1.275m - plus an additional $4 million, making the total sale reportedly worth $5.275m. Paul was later given a Guiness World Record for the most expensive Pokemon trading card sold at a private sale.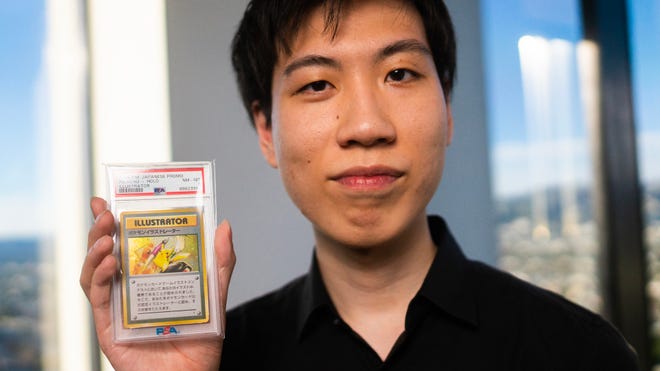 The latest copy of Pikachu Illustrator to appear at auction is a Near-Mint 8 owned by Pokémon card collector Tomoya Ohno.
Posted for sale on eBay via Ohno's own store Pokémon Club Shangri-La, the card has a starting bid of $480,000 (£400,790) - under a third of its estimated $1.5 million value, according to PSA.
The eBay auction will run until March 3rd. If it sells, the card will set a new record for the most valuable Pokémon card sold on eBay to date, beating the $375,000 record set by the NM7 Pikachu Illustrator in February 2021.